Hong Kong Says Pigs to Be Culled Before China Supply Resumes
(Bloomberg) -- Hong Kong must cull all pigs in a slaughterhouse where one was found infected with the African Swine virus before supply from China can be resumed, the city's authorities said on Sunday.
Some pork traders objected to the culling of 6,000 pigs at the abattoir, a protest that Secretary for Food and Health Sophia Chan called illegal. The government had ordered the cull on Friday to minimize the risk of the virus spreading.
We have to "clean and disinfect the site in order for the next batch of supply from the mainland and other places to come in, so that the supply of pork will resume as soon as possible," Chan said on Sunday.
"I appeal to the traders and also the buyers to co-operate with the government and let our operation continue," she said. It would be in "the best interest not only to the traders, the buyers and the entire live pork industry."
The government reached an agreement with pork traders, heading off a threat of stronger protest action, Radio Television Hong Kong reported on Sunday. The cull will begin on Monday with the slaughter and disinfection process to be completed in seven days, RTHK said, citing a meeting between the government and representatives of traders.
The Chinese government has stepped up efforts to control the deadly pig contagion ravaging its $128 billion pork industry, ordering mandatory testing for African swine fever at more than 10,000 slaughterhouses nationwide.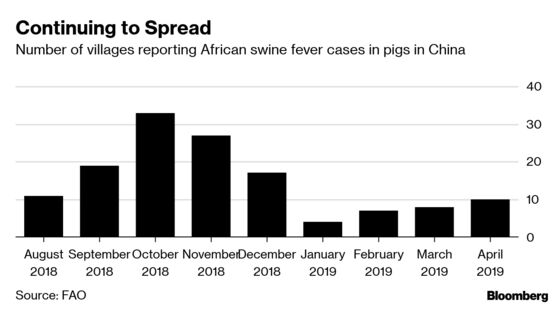 China suspended the transport of all live pigs to Hong Kong after the first case of African swine fever was found in the city, the South China Morning Post reported on Sunday. The paper cited Chan as saying that the suspension was part of an "established mechanism" and the importing of live pigs would be "automatically stopped" at sites found with cases of African Swine Fever.
China had banned some farms from supplying live hogs to Hong Kong and Macau in December, after outbreaks of the deadly African swine fever spread to its southern province.
"We would like to reiterate that African Swine Fever will not be transmitted to humans and hence poses no food-safety risk," the Hong Kong government said on Friday. "We envisage that fresh pork supply will be reduced in the near future."