Kohl's Surges on Deal to Expand Amazon Ties in Return Policy
(Bloomberg) -- Kohl's Corp. shares jumped the most in almost four months after the company said it will begin accepting returns for Amazon.com Inc. customers at all of its stores starting in July, expanding a program it started in 2017.
The department store chain began offering the free service as a pilot program that grew to 100 stores in the Los Angeles, Chicago and Milwaukee markets. Now it will increase to its more than 1,150 locations, the retailer said Tuesday.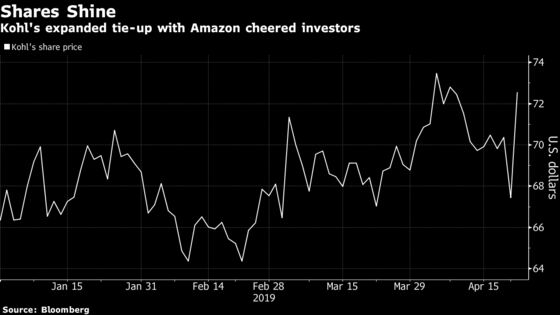 Kohl's has been getting cozier with Amazon in recent years, with the aim of drawing more new customers into its stores. The goal is that they will browse and buy something while they make their returns.
The stock surged as much as 10 percent to $74.23 in New York Tuesday, the biggest intraday climb since December. The shares had risen 1.7 percent this year through Monday's close.
"We expect this strategy to help lift traffic and drive" comparable sales at Kohl's, said Randal Konik, an analyst at Jefferies. Top-line growth "should outweigh any extra costs from shipping and returns," he said. Konik recommends buying Kohl's shares.
Kohl's also issued a warrant to an Amazon investment arm to let it buy as many as 1.75 million shares of Kohl's stock. The warrant vests over a multiyear period starting in January 2020, according to a filing. Amazon didn't return a request for comment.
Kohl's last month also said it would expand its relationship with the e-commerce giant by carrying Amazon-branded products in more than 200 stores.