Dubai's Biggest Islamic Bank Weighs Acquiring Local Rival
(Bloomberg) -- Dubai Islamic Bank PJSC is weighing a possible acquisition of smaller rival Noor Bank PJSC as the United Arab Emirates' biggest Islamic lender seeks ways to expand amid a wave of mergers in the region.
"We're in the early stages of that analysis," Chief Executive Officer Adnan Chilwan said on a conference call on Tuesday. "There are a lot of synergies that we can see with an acquisition of Noor and should those synergies work, it would be beneficial" for the shareholders of both banks, he said.
Dubai Islamic Bank held preliminary discussions with Noor Bank shareholders, people familiar with the matter said earlier this month. The acquisition would create a lender with 278 billion dirhams ($76 billion) in assets.
The Middle East's financial-services industry is witnessing a wave of consolidation as banks seek ways to improve competitiveness and boost capital amid slowing economic growth. Abu Dhabi is in the process of merging three of its banks after combining two of its biggest lenders in 2017. Banks in Saudi Arabia, Kuwait and Bahrain are also holding merger talks.
Dubai Islamic Bank's board allowed it "to explore the possible acquisition of Noor Bank and to revert to the board with findings within three weeks,'' it said in a statement. The board also allowed the bank to hire financial advisers for due diligence and to provide an opinion on the valuation.
Dubai Islamic Bank shares closed up 1.2 percent, taking gains this year to 4.2 percent. The lender on Tuesday reported a 14 percent rise in first-quarter profit to 1.34 billion dirhams, beating the median of two analyst estimates compiled by Bloomberg.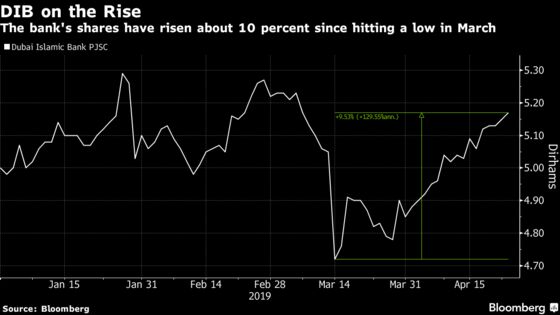 Investment Corp. of Dubai, the emirate's main state-owned holding company, is the largest shareholder in Dubai Islamic Bank with a 28 percent stake. It's also one of the biggest investors in Noor Bank, a lender set up in 2008. Dubai Islamic Bank had assets of 227 billion dirhams at the end of March compared with Noor Bank's 51 billion dirhams in December, according to data compiled by Bloomberg.
Dubai Islamic Bank wouldn't execute the transaction only because there is common shareholding, but will ensure that it is "commercially driven," Chilwan said. "Common shareholding would make the transaction easy to execute but that's not what" will drive it, he said.
The U.A.E., which holds about 6 percent of the world's oil reserves, is home to about 9 million people. More than 50 banks compete for a share of the domestic market, including the local units of HSBC Holdings Plc, Standard Chartered Plc and Citigroup Inc.
Dubai Islamic Bank has boosted profit at a compound annual rate of 21 percent over the past five years as assets grew 13 percent, according to data compiled by Bloomberg. Its return on equity of 20.7 percent in 2018 compares with an average of 12.3 percent for large publicly trade banks in the Middle East, data compiled by Bloomberg Intelligence shows.
The lender isn't looking to buy foreign banks at the moment but "will always continue to look at more acquisitions or mergers" in the U.A.E., Chilwan said.