Coca-Cola Jumps on Profit Beat as China Fuels Beverage Sales
(Bloomberg) -- Coca-Cola Co., locked in a renewed battle for global beverage sales with rival PepsiCo Inc., rose as its push beyond sugary drinks helped it beat on profit in the first quarter.
The beverage giant got a boost from better sales in China, where Chief Executive Officer James Quincey said bottled water and trademark Coke are performing well. Global unit case volume, a key measure for Coke, rose 2 percent, fueled by a 7 percent spike in Asia Pacific.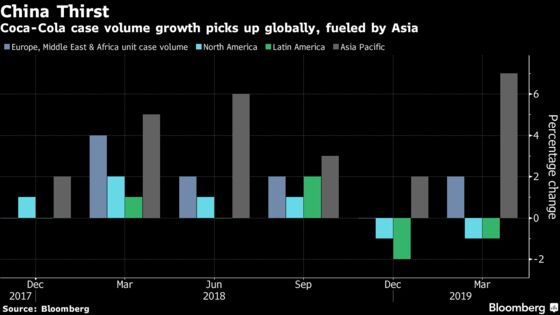 Still, volumes slipped in North America, where both Coke and PepsiCo have boosted advertising spending as they battle for customers in an increasingly crowded beverage market.
"The bigger and smaller players are being very active -- it's a vibrant industry that's growing," Quincey said in an interview. "It means we have to up our game."
Coke, as it tries to fend off Pepsi and other upstart competitors, has been diversifying beyond sugary drinks. The company said it will release Costa ready-to-drink coffee in the second quarter, its latest push to boost sales with new kinds of beverages. Quincey to date hasn't laid out its strategy for the U.K. chain, which Coke bought for $5.1 billion.
Coke shares rose as much as 2.8 percent to $48.72 in New York, the biggest intraday gain in more than a month. The stock had been roughly flat this year through Monday's close, trailing the 14 percent gain for PepsiCo.
Grappling with currency pressure and geopolitical tensions, the company previously said earnings would essentially be flat this year, and it reiterated that outlook on Tuesday. The company also said it got a boost in the quarter from bottlers in the U.K. building inventory ahead of Brexit.
The robust results mirror rival PepsiCo Inc.'s strong start to 2019. Coke, which has raised prices to offset higher costs, said it logged double-digit growth for Coca-Cola Zero Sugar globally, with its orange vanilla flavor in the U.S. particularly strong.
In the U.S., the beverage giant is also benefiting from easing transportation costs. A trucker shortage has hampered consumer companies for more than a year, and while freight costs are still increasing, the situation has stabilized, Quincey said.
"It's just normally bad now, rather than off the charts," he said.