Oil Slips as Banks, Finance Ministers Signal Economic Challenges
(Bloomberg) -- Oil retreated in New York after its longest run of weekly gains in three years, as disappointing bank earnings revived uncertainty about the strength of the economy.
Futures slid 0.8 percent in New York on Monday after notching a sixth straight weekly increase on Friday. U.S. equities halted a three-day climb after results from Goldman Sachs Group Inc. and Citigroup Inc. failed to meet expectations. That followed a weekend statement from global finance ministers and central bankers that economic risks are "tilted to the downside."
"On the demand side, there is this looming issue of slower growth," said Marshall Steeves, energy markets analyst at Informa Economics in New York. "Overall, the outlook is not as rosy as it was even earlier this year."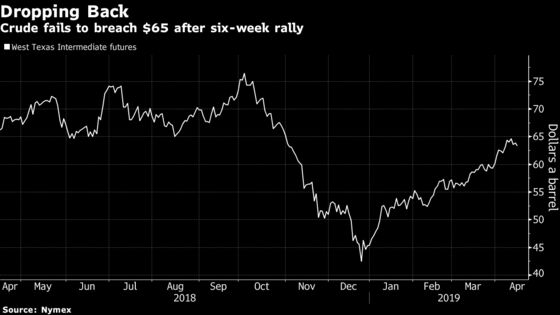 Crude has rallied 40 percent this year as the Organization of Petroleum Exporting Countries and its allies restrict supplies and Iran, Venezuela and Libya face unplanned disruptions. Yet the demand picture also remains shaky, with the International Energy Agency warning last week it could cut its growth projections.
WTI for May delivery fell 49 cents to $63.40 a barrel on the New York Mercantile Exchange as as the trading session closed.
Brent for June settlement declined 37 cents, or 0.5 percent, to $71.18 a barrel on the London-based ICE Futures Europe exchange. The contract added 1.7 percent last week.
Pressuring prices further was a Baker Hughes report Friday that U.S. working oil rigs rose by two to 833 last week. While the number of drilling rigs has dropped from its recent peak of 888 in November, U.S. production has continued to reach new highs, with the latest government data showing it's at a record 12.2 million barrels a day.
See also: Aramco and the Saudi Kingdom: Where To Next? (Podcast)
The pullback in prices Monday was no surprise given futures' run upwards in recent weeks, said Bart Melek, head commodity strategist at Toronto Dominion Bank.
"To me this is very much a momentum-following type of movement rather than a change in the fundamentals, which I think are still very strong," he said.
Other oil-market news:
Gasoline futures fell 1.2 percent to $2.0118 a gallon.
Money managers raised optimistic wagers on Brent crude for a fifth straight week, while closing out pessimistic bets by the most since January.

An 

Iranian exchange

 has offered investors as much as 6 million barrels of oil so far this year. Only a single deal closed, for the minimum 35,000 barrels.