The Jury's Out on Whether Hong Kong's Property Blip Is History
(Bloomberg) -- Is Hong Kong's property correction already over?
For two months now, prices have climbed. New home sales are surging.
To the bulls, a 10 percent slide in home values from August to January looks to have been just another periodic blip in a market that has climbed relentlessly for 15 years.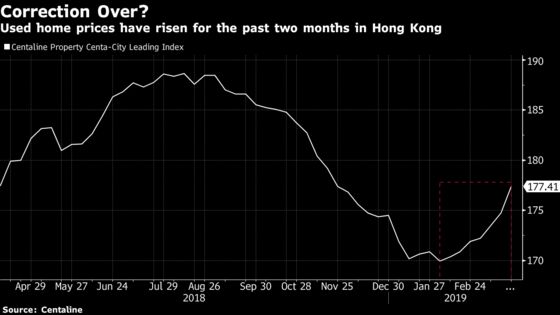 Diminished prospects for interest-rate increases, along with gains in the stock market, have boosted the confidence of buyers. New home sales have heated up as developers seek to clear inventory ahead of a looming tax on vacant apartments.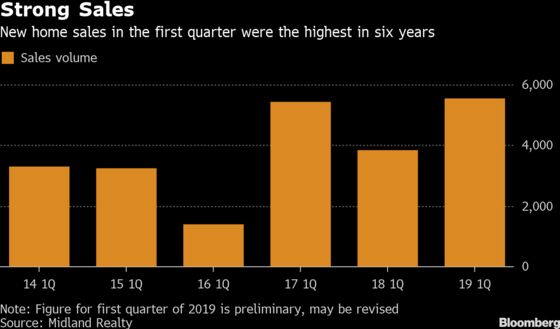 But to the bears, weakness in the global economy suggests the rebound may be short-lived, with more declines on the way. Here's the split in views, taken from interviews and notes and reports:
Citigroup Inc.
Estimates prices will rise 10 percent from the second quarter to the fourth quarter

Demand-supply imbalance and interest-rate outlook support price gains, according to Ken Yeung, head of China/Hong Kong property research 
Pent-up demand has been unleashed after Lunar New Year
JPMorgan Chase & Co.
Expects prices to increase by 5 percent to 7 percent from second quarter to fourth quarter
Capital outflow risks will ease because of the low probability of tightening by the Federal Reserve, said Cusson Leung, managing director of Asia Pacific equity research 
Cushman & Wakefield Plc
Prices will rise 15 percent in the first half
Eased tensions in the China-U.S. trade talks and a slower-than-expected pace of rate hikes have improved market sentiment, according to Alva To, the firm's vice president for Greater China
DBS Group Holdings Ltd.
Home values will fall 10 percent in 2019
Downward pressure on the global economy and a large supply of new residential units in the New Territories will suppress home values, said Jeff Yau, a property analyst with the bank
Jones Lang LaSalle Inc.
Home prices to fall about 10 percent this year
Slowing global economy to prevent price growth
"Buyers continue to enter the market on the assumption that they have job security over the near term, a situation that may quickly change," said Denis Ma, head of research