Washington Governor Inslee Joins Democratic Presidential Field
(Bloomberg) -- Washington Governor Jay Inslee, a proponent of dramatic action to reverse climate change and a vocal critic of President Donald Trump, said he's running for the Democratic nomination to try to unseat the president in 2020.
"We're the first generation to feel the sting of climate change, and we're the last that can do something about it," said Inslee said in a video released by his campaign Friday morning. "I'm the only candidate who will make defeating climate change our nation's number one priority."
Inslee, 68, has a liberal track record and a history of environmental advocacy in a state that's home to two of the biggest tech companies, Microsoft Corp. and Amazon.com Inc. He gained a national profile as chairman of the Democratic Governors Association and by opposing Trump on issues such as the president's ban on travel to the U.S. from a group of mostly Muslim countries.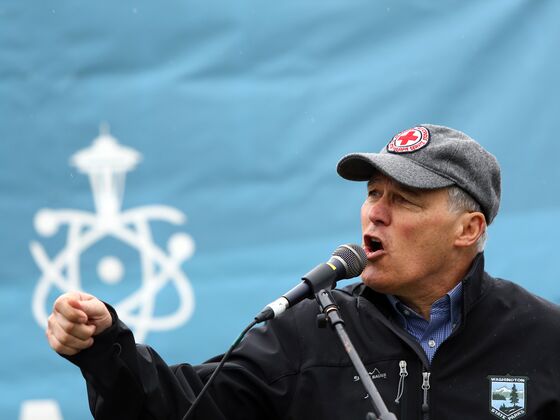 It's probably not enough to stand out in a crowded Democratic field in which he offers fewer advantages than some other contenders, said Aseem Prakash, a political science professor at the University of Washington.
Because his home state is solidly blue, Inslee can't give Democrats an advantage in a battleground state, nor does he provide gender diversity. Most of the other Democrats seeking the nomination also have made battling climate change at least part of their campaigns.
"What is working against him is demography and gender -- and the environment, in my opinion, isn't a winning issue," Prakash said.
Inslee is now serving his second term as governor and a former eight-term member of the U.S. House.
He will be joining a crowd of competitors who've already announced bids, many of whom have already established national profiles and deep fundraising lists. Among them are Bernie Sanders, an independent Vermont Senator who lost to Hillary Clinton in 2016, Senators Elizabeth Warren of Massachusetts, Kamala Harris of California, Kirsten Gillibrand of New York, Amy Klobuchar of Minnesota and Cory Booker of New Jersey. Several other prominent Democrats also are weighing bids.
In December, Inslee formed a political action committee called Vision PAC.
The governor has squared off against Trump in person and in court. In 2017 after Trump announced a ban on travel to the U.S. from a group of mostly Muslim nations, Inslee asked Washington Attorney General Bob Ferguson to file a court challenge that led to a federal judge halting the policy. Ultimately, the U.S. Supreme Court upheld a revised version of the ban.
In early 2018, Inslee called out Trump for suggesting that schools arm teachers as governors met with the president at the White House . "I just suggest we need a little less tweeting, a little more listening," Inslee said. The governor has also backed Amazon as the President attacked the world's largest public company, whose Chairman, Jeff Bezos, also owns the Washington Post.
On health care, Inslee and Democratic lawmakers in his state proposed legislation in January to offer residents a public health insurance option.
In the November 2018 election, state voters defeated a proposed fee on carbon emissions backed by Inslee. It was the second time in two years voters rejected ballot initiatives that would have placed a cost on carbon emissions in an effort to raise the price of using fossil fuel.
More broadly, Inslee has presided over a state with a favorable environmental profile -- Washington is among the least carbon-intensive states in the nation, ranking ninth lowest, according to data from the U.S. Energy Information Administration. It produces more hydroelectric power than any other state -- more than twice as much as Oregon, which ranks second. In December, the governor proposed a package of climate proposals that would aim to eliminating the state's use of fossil fuels by 2045.
The governor has focused much of his attention on a transition to clean energy and using such changes to create jobs -- issues that poll well with voters, said Nives Dolšak, a professor and associate director at the University of Washington's School of Marine and Environmental Affairs.
"He has been arguing consistently since 2002 that we need clean energy, and he's focused on jobs. There's clear, strong public support for that," she said.
Inslee, a fifth-generation Washingtonian, was born in Seattle to a father who was a high school counselor and football coach and later athletic director of the Seattle Public Schools. His mother was a sales clerk at Sears. Inslee graduated from the University of Washington and the Willamette University College of Law. He married his wife, Trudi, in 1972 and moved to Selah, a city of several thousand residents in the heart of the state's apple and fruit processing region.