Trump Returns Home to Face the Mueller Music
Donald Trump is back in Washington, where the political and legal peril he faces has grown in his absence.
Trump now confronts what could be the most difficult phase of his tumultuous presidency. While he was halfway around the world in Hanoi, his long-time lawyer and fixer Michael Cohen – who is cooperating with Special Counsel Robert Mueller – implicated him in fresh alleged criminal misdeeds in a day of explosive public testimony on Capitol Hill.
Democrats, who mostly have been loathe to raise the possibility of impeachment before Mueller completes his 21-month probe into Russian election meddling, are insisting on full disclosure of the impending final report – and the evidence behind it.
As Billy House and Chris Strohm report, they're hoping to capitalize on precedents Republicans set when they controlled the U.S. House during the investigation into Hillary Clinton.
If they're successful, and if Mueller does find presidential wrongdoing – two huge ifs – that could be the smoking gun those seeking to take Trump down have been hoping for.
But Trump, who once boasted that he could shoot someone on New York's' Fifth Avenue and his supporters wouldn't abandon him, has demonstrated remarkable political resilience.
The coming weeks are likely to bring the sternest test yet of his mettle.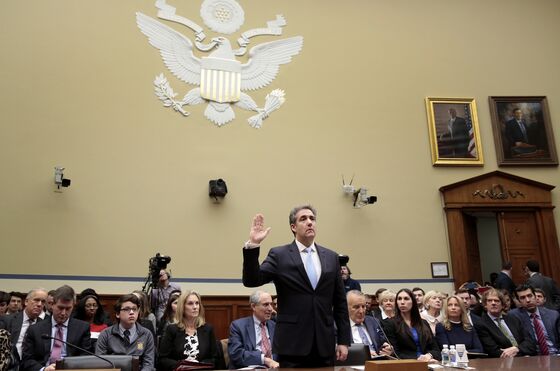 Kim's shock | Trump's decision to walk away from nuclear talks raised new questions about North Korean leader Kim Jong Un's strategy for relieving the sanctions squeezing his economy, Youkyung Lee reports. Kim's challenge now will be determining how to keep the aborted confab from reversing gains he made in the past year.
Missile defense dispute | Turkey rejected a U.S. proposal to deliver a Patriot missile defense system in return for abandoning a deal to buy one from Russia. Acting U.S. Defense Secretary Pat Shanahan tells Tony Capaccio and Bill Faries in an exclusive interview, the purchase of the Russian system would imperil prospects to sell the NATO ally the next-generation F-35 jet it's helping to build. Asked what action the U.S. will take if Turkey goes ahead, he said "we'll cross that bridge when we get there.''
Hold the celebrations | Nigerian President Muhammadu Buhari won his bid for re-election to another four-year term with a resounding victory, but he'll have little time to celebrate. As Paul Wallace reports, Africa's biggest oil producer faces a multitude of problems including an anemic economy, attacks by militants loyal to Islamic State wreaking havoc in the northeast and an explosive cocktail of worsening poverty and rapid population growth.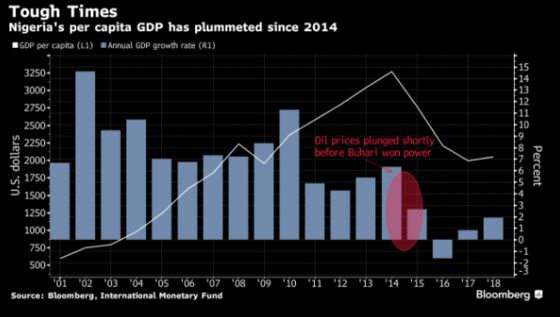 A question of trust | Italian Deputy Prime Minister Luigi Di Maio said he's confident that neither his party nor his coalition partner will throw him overboard despite his crashing poll numbers. In an interview with John Follain, he also said he sees no security concerns with the controversial Chinese tech giant Huawei, and that there's no risk an EasyJet-Delta plan to turnaround Alitalia will fall apart.
Beginning of the end? | Almost a week of largely peaceful demonstrations against ailing Algerian President Abdelaziz Bouteflika may intensify before his expected filing of candidacy papers on Monday to seek a fifth term in April's elections. Organized anonymously over social media, the protests pose the greatest challenge in years to the leader of the North African oil producer and key Western ally in the fight against Islamist militants in the region.
An Indian pilot captured by Pakistan after his plane was shot down this week is set to be handed over to India today, but his return may not be enough to reduce tensions between the South Asian rivals.
Australian Prime Minister Scott Morrison's battle to retain power took a hit today when a senior lawmaker announced he will quit politics at the upcoming election.
And finally... Chinese authorities rushed to install fences at a train station where North Kim was secretly filmed smoking a cigarette during his trip to Vietnam. He's scheduled to leave Hanoi tomorrow on the 66-hour journey back to North Korea, giving him plenty of time to contemplate what went wrong – possibly with a cigarette in hand.