South Africa Says Mining Deaths Resume Decline to 81 Last Year
(Bloomberg) -- The number of workers killed in South African mines fell to 81 last year after an improved safety performance offset a spike in fatal accidents early in the year.
The figure compares with 90 deaths in 2017, the Department of Mineral Resources said on Twitter on Friday. That year, the number of fatalities increased for the first time in a decade. South Africa's mines are among the world's deepest and least mechanized, typically relying on older, labor-intensive mining methods.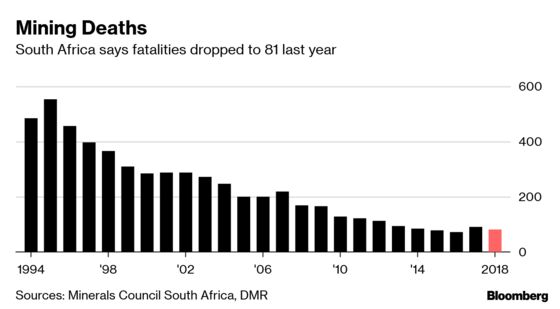 In the gold industry, which is characterized by depleting and increasingly deep ore-bodies, there were 40 deaths last year. The platinum sector reported 29 fatalities.
The situation appears improved so far this year, with five deaths reported, compared with 14 at the same point in 2018, the ministry said.