Gas Prices Explode in U.S. Northwest as Temperatures Plunge
(Bloomberg) -- Benchmark natural gas futures traded Friday at about $2.80 in New York. But in a corner of the U.S. Northwest, spot prices rocketed to more than 70 times that level as frigid temperatures sent traders scrambling for extra supplies.
Gas for delivery this weekend in Sumas, Washington, near the Canadian border, surged to $200 per million British thermal units, the highest spot price recorded in the U.S., according Intercontinental Exchange Inc.
Settling at that level would easily mark a record high, based on data compiled by Bloomberg. Historically, the regional price has trading within a matter of cents of the futures on the New York Mercantile Exchange. But it blew out in October, after a Canadian pipeline operated by Enbridge Inc. that feeds the Huntingdon/Sumas hub at the border with Washington was hit by a rupture. It's operating at reduced capacity.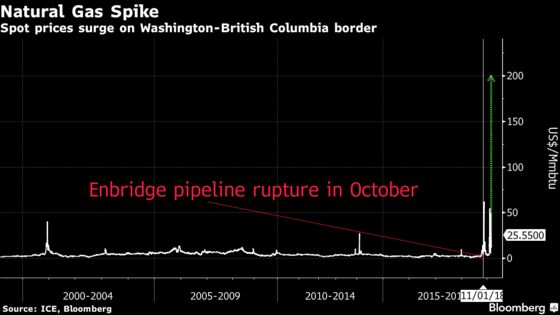 This surge in gas, a key fuel for power generation, combined with the cold snap also boosted power prices. The average price for peak electricity for delivery on March 4 at the Mid-Columbia hub in Washington, the benchmark for the region, traded as high as $1,000 a megawatt-hour on the Intercontinental Exchange, said David Hoy, an energy trader with Dynasty Power in Calgary. Prices settled at $890.56, eclipsing the May 2001 record of $450, according to ICE data compiled by Bloomberg.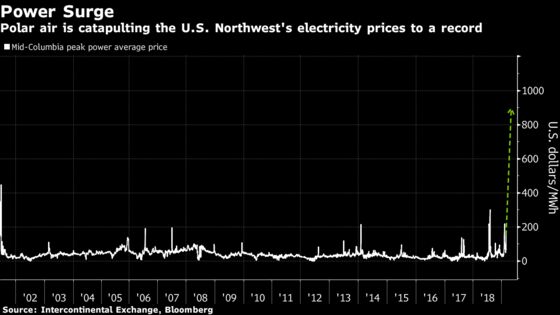 "This is unprecedented" in the region, and even in the transmission-constrained eastern U.S., the only time power traded that high was during the polar vortex in 2014, Hoy said. "Something is very broken."
Frigid Blast Sweeping Across U.S. Prompts Fuel Shortage Warnings