Power Cuts Weigh on South African Manufacturing Sentiment
(Bloomberg) -- A gauge measuring South Africa's manufacturing industry fell for the second straight month in February as power cuts weighed on business activity.
Absa Group Ltd.'s Purchasing Managers' Index, compiled by the Bureau for Economic Research, declined to to 46.2 from 49.4 in January, the Johannesburg-based lender said in an emailed statement Friday. The median estimate of five economists in Bloomberg survey was 49.5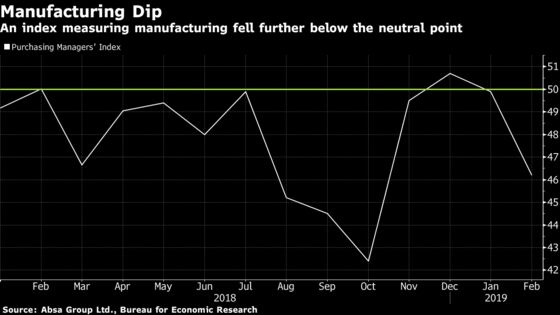 The return of rolling blackouts last month weighed on the index measuring business activity and the gauge declined to 42.3 from 49.8, Absa said. The nation's debt-ridden power utility said on Thursday there is a risk of so-called loadshedding on Friday and over the weekend.
While the slowdown in inflation and a stable exchange rate helped to push down the purchasing-price index for a fifth straight month, this breather for manufacturers could end soon. Fuel prices are set to increase next week due to the advance in crude, according to estimates from the Central Energy Fund, and this would raise cost pressures for factories.
Respondents "remain fairly upbeat about business conditions going forward," Absa said. While the sub-index tracking expected business conditions in six months' time declined slightly in February, it remains above levels reached in the second half of last year, the lender said.