Nexon Shorts Build Up Massive $422 Million Bet Against Buyout
(Bloomberg) -- Shares of Nexon Co. have soared in recent weeks on the prospect of an acquisition of the Japanese gaming company. But a trader or group of traders is making a massive bet that the stock is going to drop.
Short sellers have built up a 47 billion yen ($422 million) position that will profit if shares fall, implying they believe a sale of a 47 percent stake by South Korea's NXC Corp. won't trigger a premium-priced buyout offer for the rest of Nexon. The key question for potential suitors is whether acquiring the stake will force them to make a tender offer for the remaining shares, as required by securities law in Japan.
Short interest has tripled to about 3 percent of Nexon's outstanding shares from mid-January, data from IHS Markit shows. Sellers have stepped up their positions in the past week, even as bidders such as Amazon.com Inc. have reportedly joined Tencent Holdings Ltd. and others vying for a stake in Nexon, which is listed in Japan and has a market value of about 1.6 trillion yen.
Maiko Ara, Nexon's head of investor relations, declined to comment on the short sales.
"It's a substantial amount of short interest and has really ramped up in the last couple of days," said Andrew Jackson, head of Japanese equities at Soochow CSSD Capital Markets. He said trading activity indicates the position isn't merely a hedge. "Someone is really taking a big bet on this one."
Nexon shares have climbed about 25 percent this year, amid reports that billionaire founder Kim Jung-ju may sell his holding firm NXC, which owns the stake in Nexon. Talks have been complicated by the possibility of regulatory hurdles in Japan and political pushback in South Korea and China, resulting in some firms stepping away from the bidding.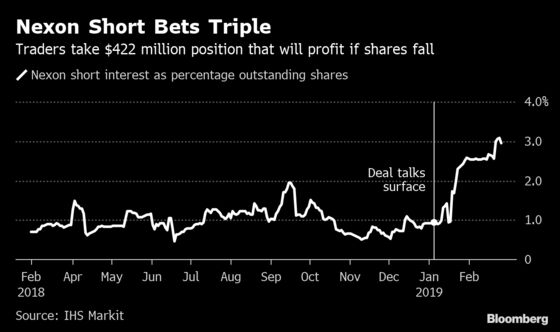 Kim initially approached Tencent about selling his shares last year when he decided to retire, people familiar with the matter said. His children didn't want to inherit the business, said the people, who asked not to be identified because the talks are private. Acquiring the stake would help Tencent President Martin Lau cement an existing partnership with Nexon and expand outside China, where authorities are cracking down on game addiction.
But a deal didn't materialize last year because Kim wanted to secure a higher sale price and decided to go through a formal bidding process, which began in early January, one of the people said. Since then, a number of companies have joined the talks, from rival publishers such as Netmarble Corp. to private equity firms including Hillhouse Capital. Nexon's Ara, speaking on behalf of NXC, declined to comment on the process.
Japan's securities law is designed to protect smaller investors by requiring buyers seeking more than 33 percent of a company to make an offer to purchase stock from all shareholders. Analysts say this is a big reason why Nexon shares rallied this year, on expectations that should Tencent or others purchase Kim's 47 percent stake, they will need to tender for the other 53 percent too, potentially taking the company private.
Jun Yokoyama, a senior researcher at Daiwa Institute of Research Holdings, says the law often complicates negotiations for large stakes in companies. He says one strategy is to offer to purchase shares at a discount to the market price, which allows buyers to acquire large stakes without having to take a company private.
"Most shareholders will balk at selling below market, so it's a technique to narrow it down to a specific seller while abiding by the law," Yokoyama said. "We see this happen quite often."
A potential deal also faces headwinds in South Korea and China. Last year, Tencent was concerned whether Beijing regulators would be supportive of a bid, the person said. At the same time, South Korean authorities may not want Nexon to fall into Chinese hands, Bloomberg reported last month. A buyout by a rival South Korean publisher such as Netmarble could also face antitrust scrutiny, Dealreporter said this month.
Still, whoever is behind the short, it isn't going well for them so far. The position has likely lost about 7 percent, assuming the investors shorted shares in line with trading volumes, based on Bloomberg calculations using data from IHS Markit and Tokyo Stock Exchange.
Japanese securities law requires disclosure of investors who short more than 0.5 percent of outstanding shares of a company, but spreading the trade among multiple entities or brokers can potentially sidestep the rule. The Tokyo Stock Exchange declined to comment on who's behind the bet.