Gap Soars as Analysts See Old Navy Getting Multiple It Deserves
(Bloomberg) -- Gap Inc.'s plans to split off its Old Navy brand from its Gap namesake and other brands overshadowed the fourth-quarter results, sending shares soaring in Friday's session.
Analysts applauded the decision, saying the split could provide a greater valuation for Old Navy -- with analysts estimating per-share value as much as seven times greater than that of NewCo, which will hold the Gap, Banana Republic and Athleta brands. Telsey Advisory Group initially targets an Old Navy value at $35 per share, while B. Riley FBR pegs it at about $23. The NewCo management team will also get greater opportunity to focus on fixing the other brands with more targeted investments and resources.
Gap shares surged as much as 21 percent to $30.65, the highest intraday since Aug. 30.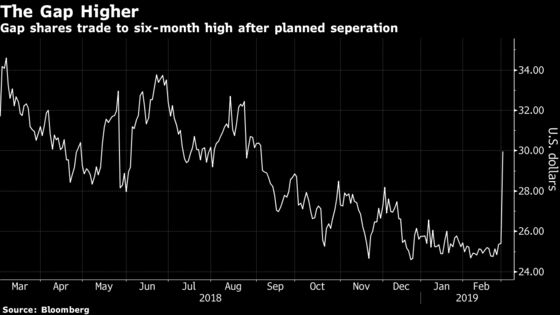 Here's what analysts are saying:
Telsey Advisory Group, Dana Telsey
"Given what we see as the ability to further unlock shareholder value from the spin off of the ON business, we are taking our price target up to $40 from $34 previously." Specifically, Telsey values Old Navy at $35 per share and NewCo at $5. Rates outperform.
"NewCo can benefit from a rebalanced Gap brand, the Athleta growth component, and a healthier BR at an attractive valuation."
"Fourth quarter results may not have been worse than feared. EPS came in better than expected and the Gap brand comp matched market estimates, while a comp shortfall at ON came against a strong 9% compare from a year ago at a time of understood macro headwinds."
Meanwhile, the high-end of the year EPS forecast is just 2 percent to 3 percent below the consensus estimate of $2.62.
"We do expect stock upside as investors are able to attribute a higher multiple to Old Navy and its value-driven orientation which is well positioned for growth. Ideally, changes should enable greater focus & more efficient allocation of investment dollars at each respective company."
Rates market perform and raises his price target to $32 from $29 based on sum-of-the-parts analysis that estimates Old Navy's equity value can be about $9.5 billion, which implies EV/Ebitda multiple of about 7.5 times, compared with Gap's current combined EV/Ebitda multiple of about 6 times. Expects the equity value for NewCo to be close to $2.7 billion, which implies EV/Ebitda multiple of about 4 times.
What Bloomberg Intelligence is saying:
"Gap's decision to spin off Old Navy into its own company in 2020 should provide the brand with more flexibility."

"Gap's remaining brands will stay together and likely be healthier once 230 namesake stores are closed over the next two years. The 4Q sales miss and persistent weakness at Gap likely drove the change."

"Gap's reactive capabilities should keep helping product sell-through at healthy margins at Athleta and Old Navy. Higher wages, markdowns, technology investments and marketing remain headwinds to margin, though double-digit online sales growth is encouraging."

--Poonam Goyal, Morgan Tarrant
B.Riley FRB, Susan Anderson
Views the planned separation of Old Navy and the major re-sizing of the Gap store fleet "favorably" as the NewCo (Gap, Banana Republic, Athleta and others) takes "necessary steps towards modernization, and likely gives the Gap brand more focus vs. previously."
Sum-of-the-parts analysis valued the entire company at $32: Old Navy at $23, Gap Global $4, Banana Republic at $2 and other brands (Athleta, etc.) at $3.
Rates neutral, price target $30.
Deutsche Bank, Paul Trussell
"The announcement to create two publicly traded companies (Old Navy and NewCo) has overshadowed results and surprised investors."
The fourth-quarter results showcased that "challenges remain, particularly at the Gap brand," although Old Navy sales also missed and trends there remain "soft" quarter-to-date.
"We applaud management on the pending transaction which unlocks meaningful shareholder value given Old Navy's margin profile and long runway of growth ahead," including low- to mid-single digit comp. sales/square foot growth.
Rates hold, boosts price target to $34 from $30
"There was a clear deterioration" in the business during the fourth quarter that is being overshadowed by news of the Old Navy separation. "We believe the stock would have traded lower on 4Q earnings" without the spin news.
Rates neutral, price target $29