As Old-Guard Food Companies Stumble, Milk, Sugar and Cheese Take Hits
(Bloomberg) -- With many old-guard food companies teetering on the edge of profitability, 2019 is shaping up as pivotal year for foods that dominated dinner tables for decades.
Last week, Kraft Heinz Co., the owner of Jell-O and Oscar Mayer's Wienermobile, lost $16 billion in market value after reporting a writedown that reduced the value of some big-name trademarks. Dean Foods Co.'s announcement it is contemplating a sale had some analysts doubting if the top milk company would lure any buyers for its shrinking business.
Such legacy stalwarts have been criticized for not being in tune with where consumers are going, which is away from sugary, highly processed products that line the brand portfolios of such companies. New-fangled plant-based products are nipping at the heels of big dairy companies like Dean.
"A lot of these companies all seem to say the year 2019 will be one of little or no growth," said Kenneth Shea, a Bloomberg Intelligence analyst. Many are doling out dividends while struggling with heavy debt and narrowing margins, with no money left over to innovate. "The old guard is going to have to change," he said.
In the meantime, companies are racing to adapt. Here's some examples:
Americans are drinking 40 percent less fluid milk than in 1975, turning instead to almond, oat and soy-based alternatives made by companies that range from the small, vegan company Oatly AB to major players like PepsiCo Inc.'s Quaker Oats. Sales of milk alternatives rose 7.8 percent in the year through January 26, 2019, hitting $1.7 billion, according to data from Nielsen. Meanwhile, as prices fell for regular milk, many smaller farms closed or were bought out by bigger, more efficient operations.
The Kraft brand took a hit in the Kraft Heinz implosion, not a great sign for Singles, the iconic orange squares of processed cheese wrapped in plastic. With customers increasingly opting for more European-style cheeses, the 500-pound barrels of cheddar used to make processed cheese are selling at a record discount for this time of year compared with 40-pound cheese blocks -- the kind of cheese that goes on party platters -- at the Chicago Mercantile Exchange.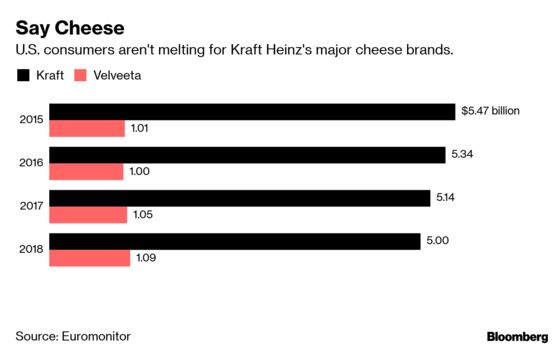 The world is at war with sugar. With per capita consumption in the U.S. down for the past three years, Coca-Cola Co. is reformulating many of its products, and PepsiCo has vowed to allow no more than 100 calories from added sugars per 12-ounce serving in most of the products by 2025. At the same time, bumper crops from India to Thailand and the European Union have left the world awash in sugar, driving down the price.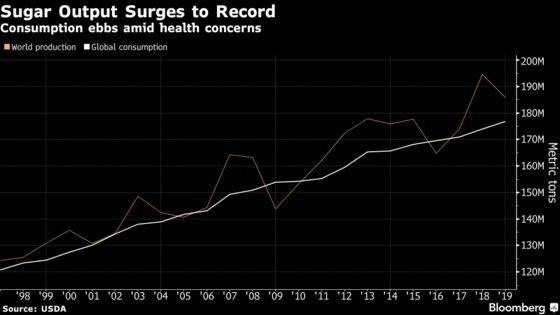 Corn syrup's drop has been even more precipitous -- around 30 percent in per capita consumption over 15 years, according to Bill Lapp of Omaha, Nebraska-based Advanced Economic Solutions. The corn that goes into sweeteners makes up less than 5 percent of demand for the grain, a small slice, so it isn't having major impacts on markets. Still, the trend has resulted in corn refinery plants consolidating.
"I would describe it as a slow erosion of demand," Lapp said. "The biggest thing here is reduction in the consumption of soda."
Corn syrup's fall perhaps culminated in this year's Super Bowl, when Anheuser-Busch InBev SA's Bud Light ads called out competitors using the sweetener, and enraging the corn lobby.
Even chocolate can't escape the trend. With sugar branded as the new tobacco, some of the world's top chocolate makers have been forced to come up with new formulations and ways to diversify revenue.
Nestle is selling slimmed-down Milkybars in the U.K. and Ireland as part of a program to use 30 percent less sugar. The bars include a type of sugar that dissolves quicker in the mouth, but produces a similar taste to the originals. Germany's Ritter Sport has sold quinoa and even cannabis bars.
As consumers shift away from the iconic chocolate bars into healthier options, Mars Inc., the maker of Snickers and Twix bars, bought a stake in health snack firm Kind. In the U.S., Nestle opted for selling its confectionery unit altogether.
The trend has also affected some of the world's biggest cocoa processors and makers of industrial chocolate. Barry Callebaut AG, the No. 1 maker of bulk chocolate, launched ruby chocolate in 2017. The first new type of chocolate in 80 years has a pinkish hue, created using only natural ingredients, a big appeal for millennials. Cargill Inc. markets caramel-flavored white chocolate and also makes lactose-free dark chocolate.
Coffee drinkers are keen to know where their daily cup of joe comes from. The appeal of beans from exotic countries has helped boost business in Africa, where the industry had been in decline. Nespresso has offered capsules from South Sudan and is now investing in revitalizing the industry in Zimbabwe.
To adapt to the new hipster wave, Nestle bought a stake in Blue Bottle Coffee for $425 million while Smucker's, the maker of Folgers, is trying to rejuvenate its products with the launch of the 1850 brand. JAB Holding Co., the closely-held investment firm that's building a coffee empire, also invested in the likes of Peet's Coffee & Tea.