Curve-Flattening Fans Set to Get Mojo Back With Fed's Next Hike
(Bloomberg) -- Bets on a flatter U.S. yield curve may be set for a revival with the Federal Reserve widely expected to raise rates this week, and some traders anticipating that officials will signal a quicker pace of tightening.
The months-long march toward inversion has taken a breather, with longer-maturity yields approaching their highest levels of 2018. But for Tom di Galoma at Seaport Global Holdings, the robust economic backdrop raises the possibility that the Fed will adopt a 'hawkish tone," such as by nudging up projections for rate hikes next year. To him, that means more curve flattening. John Herrmann at MUFG Securities Americas Inc. predicts the same.
"The economic data has been very solid, especially consumer confidence and the housing," said di Galoma, managing director of government trading and strategy at Seaport. "All of this should keep the yield curve flattening."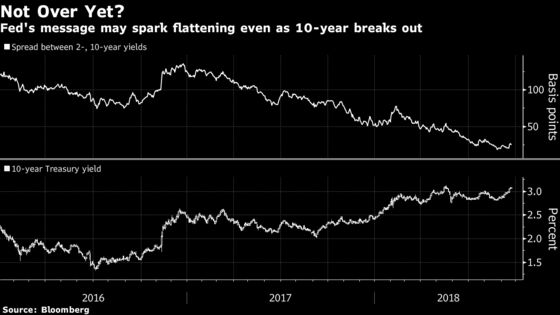 The median of officials' quarterly rate forecasts for 2019 may rise from June's 3.125 percent level, which implied three quarter-point increases next year, according to di Galoma. Investors also have to watch for potential yield swings from Fed Chairman Jerome Powell's press briefing following the central bank's decision on Sept. 26.
But there's more than the Fed this week to revive the flattening trend, which has caught the attention of policy makers and investors because of the recessionary signal an inversion has historically sent.
Trade tensions will also be front and center, potentially fueling haven buying, with the U.S. set to impose tariffs on an additional $200 billion of Chinese goods. And the bond market will have $123 billion of notes to absorb in tenors of seven years and less, which could pressure shorter-maturity yields higher.
With U.S. stocks setting record highs and a wave of corporate supply hitting the market, yields on 10-year Treasuries rose for a fourth straight week. The yield reached 3.094 percent and had its first weekly close since May above the key 3 percent level. In addition to quarter-end flows, traders will be monitoring whether the 2018 highs for the 10- and 30-year yields, of about 3.13 percent and 3.26 percent, respectively, hold in the days ahead.
The 10-year maturity's yield premium over 2-year notes widened to 26 basis points, after shrinking last month to the narrowest since 2007, which was also the last year it was inverted. The curve steepened last week because 10-year yields were too low relative to the strength of the economy, said MUFG's Herrmann. But the move won't last, he predicts.
The Fed will likely hike faster than the market has priced in, which "points to a flattening bias of the 2s-10s yield curve," he said.
Already last week, money-market traders moved closer to the Fed's overall path for tightening, pricing in close to two hikes next year, after expected moves this week and in December.
Traders are still not as aggressive as some Wall Street prognosticators. Strategists and economists at firms including Goldman Sachs Group Inc., JPMorgan Chase & Co. and Royal Bank of Canada all forecast four increases in 2019.
The U.S. will impose fresh tariffs on China as of 12:01 a.m. Washington-time Monday
The Fed's Sept. 25-26 meeting takes center stage

The rate decision comes at 2 p.m. ET Wednesday, with quarterly economic forecasts to be released separately and Powell's press conference to follow
Sept. 27: Dallas Fed's Robert Kaplan speaks in Charlotte, North Carolina; Powell makes remarks at Senate event
Sept 28: Richmond Fed's Thomas Barkin speaks in Charlotte; New York Fed President John Williams speaks at conference

As far as economic indicators, personal income and spending and the latest reading on the Fed's preferred inflation gauge are the highlights

Sept. 24: Chicago, Dallas Fed activity index
Sept. 25: FHFA house price index; S&P CoreLogic Case-Shiller home price indexes; Richmond Fed manufacturing index; Conference Board consumer confidence
Sept. 26: MBA mortgage applications; new home sales
Sept. 27: Advance goods trade balance; wholesale inventories; 2nd revision of second quarter GDP; durable goods; jobless claims; Bloomberg consumer comfort; pending home sales; Kansas City Fed manufacturing activity
Sept. 28: Personal income and spending, PCE inflation; Chicago purchasing managers index; University of Michigan sentiment

Treasury will auction bills, and both fixed- and floating-rate notes:

Sept. 24 brings $48 billion of three-month bills and $42 billion six-month bills, with a sale of 4-week bills slotted for Sept. 25
Treasury sells $37 billion of two-year notes on Sept. 24; $38 billion of 5-year notes and $17 billion of 2-year floating-rate notes on Sept. 25; and $31 billion of 7-year notes on Sept. 27