Comcast Slides After $39 Billion Sky Takeover Spooks Investors
(Bloomberg) -- Comcast Corp. shares fell the most in three years as investors worried that the U.S. cable giant overpaid in an auction for the European satellite-TV company Sky Plc.
On Saturday, Comcast offered $39 billion for Sky in a knockout bid, topping rival suitor 21st Century Fox Inc. in an auction.
Craig Moffett, an analyst at MoffettNathanson LLC, downgraded Comcast's stock Monday to neutral, saying the company had "grossly overpaid for Sky." Timothy Horan, an analyst at Oppenheimer, also downgraded Comcast's stock, citing the company's need to invest instead in the U.S., where it faces growing competition from wireless and online TV rivals.
Comcast shares were down 8.1 percent to $34.85 at 10 a.m. in New York, the most intraday since August 2015.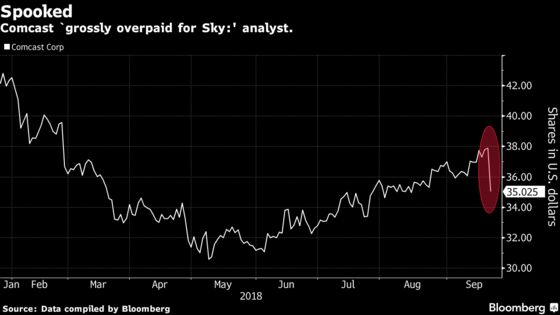 As the winner in a fierce bidding war, Comcast is poised to almost double its customers. The acquisition would also help Comcast further hedge its bets in a fast-changing business, believing the key to competing with Netflix is to straddle both sides of the business and the Atlantic Ocean.
Comcast shares had already slid this year, rattled by a failed deal to acquire Fox's entertainment assets and now a seemingly successful campaign to acquire Sky.
The company's November 2029 sterling notes fell 1.4 pence on the pound to 123 pence, the biggest decline since May and to lowest level since March 2016.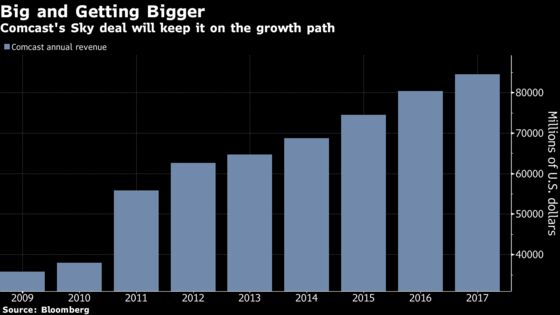 "This acquisition will allow us to quickly, efficiently and meaningfully increase our customer base," Roberts, 59, said in a statement. With no antitrust issues looming, he aims to complete the acquisition of Sky by the end of next month.
Roberts's deal victory remains clouded. For one, Fox could refuse to tender the 39 percent of Sky that it currently owns. That would leave Comcast sharing the company with Fox, which is slated to become part of Walt Disney Co. next year.
The debt Comcast will take on to complete the deal isn't a concern but the price tag is a worry, Moffett said. The bidding war between Disney and Comcast pushed Sky's valuation from eight times earnings before interest, taxes, depreciation and amortization to 15 times, he said.
"It's going to be incredibly hard to justify having paid such a high price," Moffett said in an interview Sunday. "This is an asset that neither Disney nor Comcast investors wanted to win."
Sky is essentially Comcast's European twin and buying the company is a massive bet that combining two similar businesses could fuel Comcast's financial prospects for years to come.
Comcast, based in Philadelphia, will now deliver TV to about 52 million customers in both the U.S. and European countries including the U.K., Italy and Germany. Comcast currently gets 9 percent of revenue from outside the U.S. After owning Sky, that number will jump to roughly 25 percent.
"This became a critical asset for Comcast," said Paul Sweeney, an analyst at Bloomberg Intelligence. "It's a very bold price."
Sky also has technology. Sky's pay-TV service has a slick interface called the Q box -- a counterpart to Comcast's X1 set-top box. And Sky has in-demand programming. While Comcast owns the broadcast network NBC, home of NBC News, "This Is Us," the Olympics and National Football League games, Sky has a large news division, exclusive deals with HBO and Premier League soccer matches.
"We see that this company is very much akin to the businesses we know well here," Comcast Chief Financial Officer Mike Cavanagh said at a conference earlier this year.
Sky was the final prize in a drawn-out battle between Comcast and Disney for the bulk of Rupert Murdoch's media empire. Disney fended off Comcast's attempt to buy the entertainment assets by securing a deal for $71 billion. Now, Comcast is poised to take control of Sky and transform a cable company founded 55 years ago by Ralph Roberts in Tupelo, Mississippi, into an entertainment behemoth on two continents.
Comcast executives have talked about the potential of selling Sky's content in the U.S. and NBC's programming in Europe, as well as creating original TV shows together. Comcast estimates that owning Sky will create $500 million in synergies and generate enough cash flow to reduce its debt in a timeline that won't hurt its credit rating.
Some analysts, however, viewed Comcast's interest in Sky and Fox as a sign that Comcast didn't like the future prospects of the U.S. cable business and wanted to diversify. Others questioned why Comcast wants what is mostly a satellite-TV business -- a technology that's becoming outdated as consumers get entertainment over the internet.
Comcast's stock is down more than 5 percent this year, partly due to investor concerns that it would overpay for Sky.
But Sky executives aren't luddites. They have an online-TV service that could offer lessons to Comcast, which is still weighing how it wants to get into streaming video. And Roberts has tried to dispel the idea that he doesn't like Comcast's core business of selling TV and internet service. He just likes it even better on two continents.