Big M&A Gets Easier for DSV With First Credit Rating, CFO Says
(Bloomberg) -- DSV A/S will use its new investment grade rating to sell more bonds to help finance the freight-forwarding giant's acquisition plans, according to its chief financial officer.
"It's a natural consequence that DSV will use the bond market more going forward," CFO Jens H. Lund said by phone. "When you have a credit rating, you can issue bonds sooner after a big acquisition. Previously, it took us longer to get the long-term financing completed."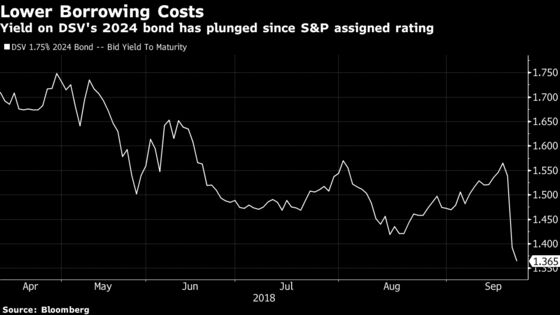 Last week, S&P Global Ratings assigned DSV a BBB+, the first major rating firm to grade the company. Since DSV digested its 2016 takeover of UTi Worldwide Inc. -- which at $1.35 billion was the biggest in its history -- the Danish company has been looking for new targets in the fragmented $500 billion freight-forwarding industry.
Read more: Freight Giant DSV Sees M&A Opportunities in Trump Trade War
DSV has previously said it favors big takeovers worth $1 billion and up. Bond sales won't become a substitute for the kind of share sales company has used in previous acquisitions, Lund said.
"We're not going to change the way we make acquisitions, and we won't allow the gearing level to go through the roof," the CFO said. "Our shareholders know that in the past we have asked for capital in connection with big acquisitions."
Read more: The CEO Who Goes to Work 'Naked' Wishes His Deal Targets Did Too
DSV's new grade is "a very strong rating for a company in the transportation sector" and "clearly a credit positive event," Brian Borsting, an analyst at Danske Bank, said in a note to clients, repeating an overweight rating on the bonds. However "the big question is if DSV will be able to retain its 'BBB+' rating" when the company completes its next takeover, he said.
"Our starting point is that we want to keep this BBB+ rating," CFO Lund said. "A bond investor is a stakeholder whom we need to look after just like an equity investor."
Read more: Air, Road Leading the Charge in DSV's Quest for Market Share
DSV has four outstanding bonds, three denominated in Danish kroner and just one in euros. The company will use the new grade to focus on euro bonds, Lund said. He also said he had no plans to obtain a second rating from another rating company.
"We're very comfortable with the euro market, it's a big market, it's a liquid market and it's where we get the right prices," he said. DSV may also use the rating as leverage "to get more competitive loans from the banks," he said.
DSV has mainly grown through a series of very successful takeovers. The Hedehusene, Denmark-based company was founded in 1976 by 10 Danish truckers and now ranks behind only DHL Logistics, Kuehne + Nagel, DB Schenker and C.H. Robinson in global freight forwarding.
"If we didn't pursue acquisitions, I think our shareholders would be disappointed," the CFO said.