Barrick Gold, Randgold in Advanced Talks on Merger
(Bloomberg) -- Barrick Gold Corp. is said to be in advanced negotiations to merge its operations with Africa-focused rival Randgold Resources Ltd., protecting the Toronto-based miner's crown as the world's largest producer of the metal.
A deal is imminent, according to one of the three people familiar with the negotiations. They declined to provide more details. Talks could still fall apart should the parties fail to agree on the terms. Executives from Barrick and Randgold are in Colorado Springs for the Denver Gold Forum.
IKN, a blog specializing in mining news earlier reported that an announcement may come as early as Sunday or before the opening bell Monday, adding, "multiple sources have told the desk the deal is on."
Andy Lloyd, a spokesman for Barrick, and Kathy du Plessis, a spokeswoman for Randgold declined to comment.
In many ways, the strategies of the two companies are similar. Both firms are highly focused on production costs, aiming to build portfolios that generate free cash flow even if gold prices drop to as low as $1,000 an ounce. They also have high internal 'hurdle' rates for investment; in Barrick's case they must generate an internal rate of return of 15 percent and in Randgold's 20 percent. The metal settled at $1,200.04 on the spot market Friday.
Both are headed by outspoken leaders with strong visions: Barrick Executive Chairman John Thornton and Randgold's Chief Executive Officer Mark Bristow.
In Barrick's case, a merger would help the miner boost output at a time when the stock has been punished for the company's stagnant pipeline. Barrick's gold production fell to 5.3 million ounces in 2017, from more than 8 million ounces a decade earlier, according to data compiled by Bloomberg. The company shed non-core assets outright, or sold stakes to partners, to repair its balance sheet, after its debt peaked at $15.8 billion in 2013.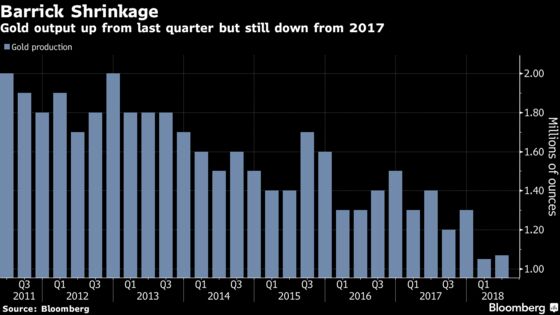 Barrick might also benefit from Randgold's experience in navigating the tough environment in Africa. Mining companies have found themselves caught up in a wave of resource nationalism around the world, but the tide has been particularly strong in many parts of Africa, where politicians are threatening to upend long-standing agreements in order to reap greater economic rewards from local resources.
Acacia Mining Plc, which is majority-owned by Barrick, has been stuck in limbo after Tanzania imposed a ban on exports of mineral concentrates in 2017 and slapped a $190 billion tax bill on the London-listed company.
To read more on Acacia: Endeavour Terminates Talks for Potential Deal With Acacia
What's uncertain is how the dynamic between the companies' top two executives would work. Just last year, Randgold's Bristow delivered a blistering commentary on Barrick's history in Tanzania, saying Acacia's troubles were caused by Barrick's failure, over decades, to deliver value to the country. While the comments ruffled Barrick executives at the time, Barrick's Thornton recently praised Randgold's performance in an interview with Canada's Globe and Mail. Thornton also said that Acacia mines have never paid income tax to the Tanzanian government.
Thornton, who speaks to media rarely is known to be the driving force behind all of Barrick's long-term strategies, including its investment in bringing the company's mining operations into the digital age. He has also played a key role in negotiating long-term partnerships for Barrick, particularly with Chinese partners, and has parachuted into tough negotiations at operations around the world, including Argentina and Tanzania.
For his part, Randgold's Bristow has a reputation for not pulling punches. He has frequently lambasted the gold industry for failing to invest in exploration, and has claimed that most of the gold coming out of the world's mines is extracted at a loss.