This Implant Helps Heal Knees With a Patient's Own Cartilage
(Bloomberg Businessweek) -- At first, Courtney Mannino blamed the dull ache in her left knee on a ligament she'd torn in high school. She ignored it as long as she could, but she had to cut her four-mile runs in half, then to zero when the pain wouldn't let up. Soon the young doctor cringed at the thought of even navigating some stairs to get to work. The diagnosis was unlucky: cartilage damage too severe to be treated with cortisone shots and over-the-counter painkillers, yet not severe enough to justify the kind of knee replacement surgery reserved for patients with advanced arthritis and way more years behind them than Mannino's 29.
With few choices, the Cedars-Sinai pediatrician decided to try a first-of-its-kind treatment from biotech company Vericel Corp., which specializes in tissue engineering. By employing a sort of medical scaffolding made of collagen, Vericel takes some of a patient's own cartilage cells, multiplies them in a petri dish, and inserts the new crop back into the damaged knee. About a year later, Mannino says the improvement has been dramatic, and she can handle stairs, a bike, and, at the gym, an elliptical machine. "It's not perfect yet," she says, but "my pain is so much better."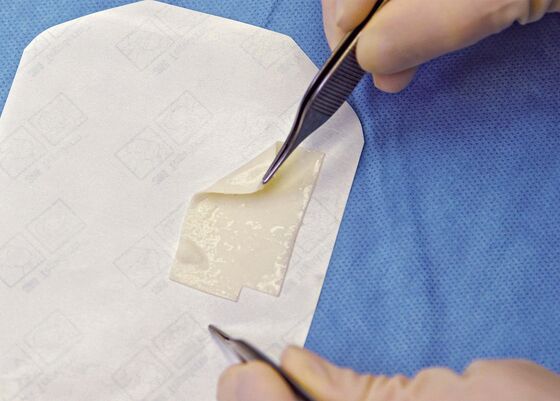 Vericel's procedure may seem a little weird. First, doctors perform a biopsy to remove a Tic Tac-size piece of the patient's healthy knee cartilage. Next, technicians in the company's Cambridge, Mass., lab extract cartilage cells called chondrocytes and bathe them for about 10 days in proteins and nutrients to grow more. Over two days, the techs then seed millions of chondrocytes onto a sheet of biodegradable collagen, creating a living mesh scaffold a little more than an inch across and about 2 inches high. A doctor cuts the scaffold down to the size of the damage in the patient's knee and through a small incision inserts it back into the knee to cover the damage. It's glued in place, making stitches unnecessary. The whole process is called matrix-induced autologous chondrocyte implantation, or MACI (pronounced like Stacy).
The cells grow slowly through the collagen membrane, which dissolves harmlessly, then they migrate through the damaged cartilage to the bone. There they adhere and spur cartilage production, gradually filling in the gaps and resulting in less pain and better knee function. "It's like filling a pothole in the road," says Vericel Chief Executive Officer Nick Colangelo.
Complicated as all that may sound, it's a breeze compared with traditional operations, which are much more invasive and complex, and for some patients it's much more effective than the usual cortisone-and-pills approach. MACI, approved by the U.S. Food and Drug Administration in December 2016, is a tantalizing possibility for the growing population of even weekend athletes wobbling around with damaged cartilage. Vericel says the number of U.S. surgeons trained in the procedure will top 900 by the end of this year, close to double the 2017 figure. "I think you'll see wider adoption of this technique, since it's very straightforward," says Kristofer Jones, an orthopedic surgeon at the University of California at Los Angeles who's an expert in cartilage repair.
MACI is part of a broader boom in tissue engineering, the use of advanced cell therapies to grow parts of organs and other anatomy. The approach has already been used to rebuild damaged trachea and blood vessels, and researchers are developing it to repair chronic wounds and treat spinal cord injuries.
The cartilage scaffold has quickly become the flagship product for Vericel, known until 2014 as Aastrom Biosciences Inc. Since MACI's FDA approval, Vericel has reported five consecutive quarters of record sales. It expects 2018 revenue of more than $80 million, up from $64 million last year. About 10,000 to 15,000 U.S. patients a year qualify for the procedure, creating a potential market for Vericel of $700 million a year, estimates Danielle Antalffy, an analyst at investment bank Leerink Partners LLC.
As those numbers suggest, MACI isn't cheap. The scaffold alone costs $40,000, and because the procedure is so new, securing insurance coverage can be difficult. It also doesn't work for everybody with cartilage damage. The 27 million Americans with the inflammatory condition osteoarthritis need to stick with traditional treatments. But for under-55s who don't want to think about knee replacements just yet, it's worth it, Mannino says. "I'm too young," she says, "to not be able to walk up and down the stairs."
To contact the editor responsible for this story: Jeff Muskus at jmuskus@bloomberg.net, Rick Schine