Singapore Air Takes Delivery of Jet for World's Longest Flight
(Bloomberg) -- Singapore Airlines Ltd. took delivery of the Airbus SE A350-900 ultra long range aircraft to start a non-stop service to New York, a journey of about 19 hours that will become the world's longest.
The first commercial flight between Singapore and Newark Liberty International Airport will be on Oct. 11, Singapore Air said in a statement yesterday. This is the first of the seven A350-900ULRs the carrier has on firm order with Airbus.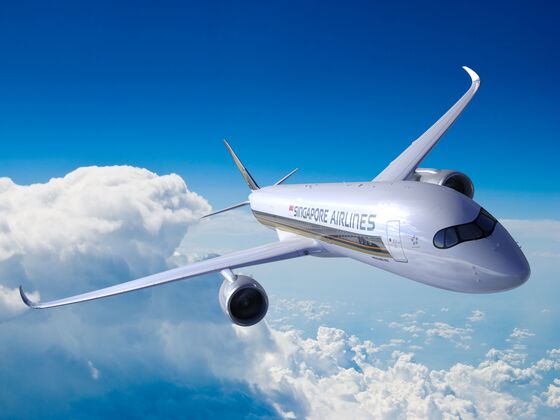 Reviving the route that the Singapore flag carrier scrapped more than four years ago will help the airline fill a gap in its U.S. network that has benefited rivals including Qantas Airways Ltd. and Cathay Pacific Airways Ltd. Singapore Air's new service -- which will overtake Qatar Airways' Doha-Auckland route as the world's longest -- will initially offer three flights in the first week, increasing to daily from Oct. 18.
Singapore Air will use the aircraft for non-stop services to Los Angeles in November.
Here are some of the features of Singapore Air's A350-900ULR:
The plane is capable of flying about 20 hours non-stop. The flight to New York will cover a distance of approximately 16,700 kilometers, with traveling time of up to 18 hours and 45 minutes
The aircraft is configured in a two-class layout with 67 business class seats and 94 premium economy seats
The ULR is a variant of the A350, with the main change over the standard aircraft being a modified fuel system. This will help the plane carry 165,000 liters of fuel, an increase of 24,000 liters: Airbus
The plane also features a number of aerodynamic enhancements, including extended winglets: Airbus