Peru Probes Ex-President Kuczynski for Alleged Vote Buying
(Bloomberg) -- Peru's Attorney General Pedro Chavarry opened a preliminary investigation into former president Pedro Pablo Kuczynski and current vice president, Mercedes Araoz, for alleged vote buying to avoid impeachment, the office said in a post on Twitter.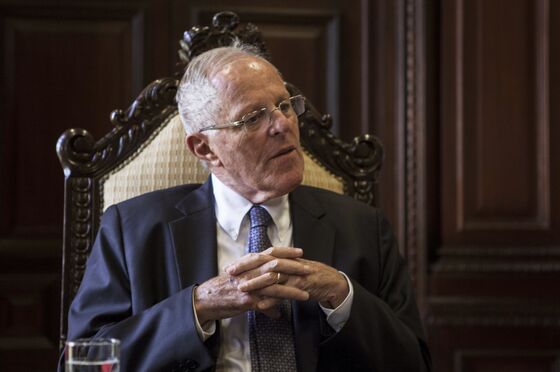 The Attorney General claims Kuczynski, Araoz and lawmakers Carlos Bruce, Marvin Palma, Maritza Garcia and Lucio Avila committed bribery, influence trafficking and belonging to a criminal organization causing damage to the state. Former agriculture minister Jose Arista is also being investigated for alleged bribery in the case.
Kuczynski resigned in March ahead of a second impeachment vote, brought down by the continent-wide Carwash bribery scandal. The former president previously said accusations of vote buying were "a big lie."
Prosecutors say Chavarry, who began a three-year term as attorney general in July, may be part of a group that negotiated judicial appointments in exchange for cash and favors, El Comercio reported on August 31.