Last U.S. Nuclear Project Faces `Jeopardy' as Owners Mull Exit
(Bloomberg) -- The only nuclear power plant under construction in the U.S. is facing stiff headwinds, as two minority owners are mulling whether to pull out of the $28 billion project led by Southern Co.
Vogtle's primary municipal co-owners, Oglethorpe Power Corp. and Municipal Electric Authority of Georgia, are scheduled to vote Monday whether to move forward with construction on the Vogtle plant in Georgia after Southern's Georgia Power utility disclosed in August that costs had increased by $2.3 billion.
As the vote looms, a Florida utility is suing to get out of a contract to buy electricity from the plant. Georgia lawmakers, meanwhile, called this week for a price cap on the project.
"If one of the major parties decides not to continue, that could put the project in serious jeopardy," said Kit Konolige, an analyst for Bloomberg Intelligence.
The Vogtle decision comes at a critical time for the U.S. nuclear industry. Existing reactors are struggling to compete with cheap natural gas and renewables, and efforts to build new ones have all but dried up. Cost overruns forced Scana Corp. to abandon a half-built project in South Carolina last year, leaving Southern and its partners as the only companies left building reactors in the U.S.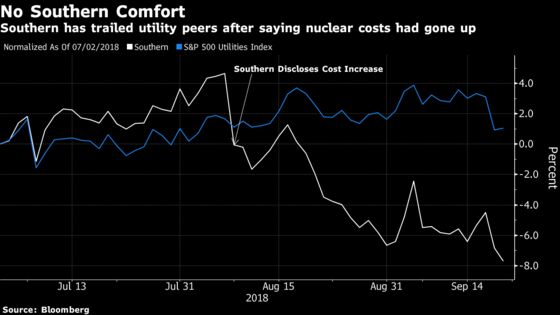 The U.S. Energy Department warned Southern's partners against pulling out of the project in a letter Friday, saying it would withhold $3.7 billion in loan guarantee disbursements until there are "firm assurances" in place to complete the project.
"If the owners decide to cancel the project, the department is prepared to move swiftly to fully enforce its rights under the terms of the Loan Guarantee Agreements, including the repayment provisions," the department wrote in letters to Oglethorpe, Municipal Electric Authority of Georgia -- also called MEAG -- and Southern's Georgia Power unit.
Southern owns 45.7 percent of Vogtle. Oglethorpe owns 30 percent. MEAG has 22.7 percent, and Dalton Utilities owns 1.6 percent. The price tag has almost doubled from an initial budget of about $14.1 billion, with Southern responsible about $6.1 billion.
One of Vogtle's future customers, a utility run by Jacksonville, Florida, is urging MEAG to vote against finishing the project. The chairman of JEA, as the utility is known, said in a Sept. 18 letter that pulling out could save ratepayers in Georgia, Florida and Alabama at least $2.5 billion.
JEA has a 20-year contract with MEAG to buy electricity from Vogtle and filed a lawsuit Sept. 12 in Florida to get out of the deal. It's also asked federal regulators to evaluate the agreement.
MEAG filed suit in federal court in Georgia to hold JEA to the deal, saying in a statement that breaking the contract would threaten the completion of the Vogtle reactors.
MEAG will "give full weight to any substantive information provided by JEA," Peter Degnan, MEAG's general counsel, said in an interview. "What we will not do is allow ourselves to be influenced by empty threats."
Southern said the JEA suit doesn't directly impact whether the project will continue. All the co-owners entered a new contract to move forward a year ago and "everyone acknowledged and accepted all possible risks," the Atlanta-based company said in a statement. "Georgia Power has voted to move forward, and we hope the co-owners will also vote in favor to fulfill their obligation."
Georgia Governor Nathan Deal, a Republican, supports the nuclear project, saying it will provide economic benefits and carbon-free electricity. "Walking away at this point would be breaking our promise," he said in a Sept. 18 letter to the Vogtle partners.
Southern assumed responsibility for managing the project after contractor Westinghouse Electric Co. went bankrupt last year, largely because of rising costs for both the Georgia reactors and the scuttled Scana project it was also building.
Southern now expects its share of the costs, including financing, to be about $12.7 billion, excluding payments from Westinghouse's parent Toshiba related to the bankruptcy.
"The track record of these massive projects is that they have a lot of issues getting to the finish line and cost a heck of a lot of money by the time you finish them," said Konolige.