Gunmen Attack Iran Military Parade, Killing at Least 29
(Bloomberg) -- Gunmen opened fire at a military parade in Iran's southern city of Ahvaz on Saturday, killing at least 29 people in one of the worst militant attacks in the country's modern history.
Fifty-seven people were wounded, according to the semi-official Fars News agency, which cited a lawmaker. Islamic State militants and an Arab group in the area claimed responsibility for the attack.
Members of Iran's Revolutionary Guards and civilians, including a child and a journalist, were among those killed, the semi-official Tasnim news agency reported, citing the deputy governor of Khuzestan, Hossein Hosseinzadeh.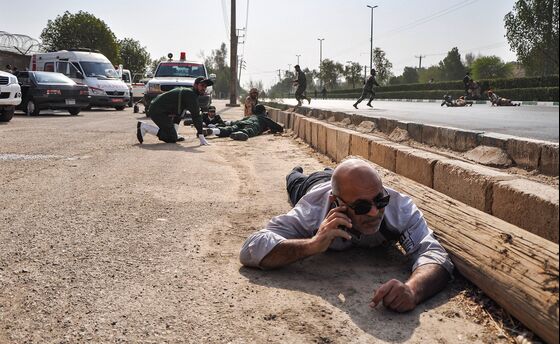 The attack took place in the capital of the Khuzestan province, which borders Iraq and is home to a large Sunni population and some of the country's largest oil fields. Armed groups have engaged in sporadic clashes with security forces in the region. Iran is dominated by Shiite Muslims.
The incident comes at a critical time for Iran's ruling elite as they try to contain the fallout from the U.S. decision to abandon the 2015 nuclear deal and re-impose crippling economic sanctions against the country. The Islamic Republic is also engaged in a proxy confrontation with Saudi Arabia and Israel across regional conflicts from Syria to Yemen.
State media and Iranian officials immediately labeled the gunmen as terrorists. Supreme Leader Ayatollah Ali Khamenei, who has final say over all state matters, said the attack was a continuation of "conspiracies by U.S.-backed regimes in the region." A Revolutionary Guards commander earlier said Saudi Arabia had "fueled" the attack.
At around 9 a.m., local time, four armed men who had been watching the parade among the crowds began firing randomly, Brigadier-General Abolfazl Shekarchi, a spokesman for the IRGC, told state TV in a phone interview. Security forces killed three of them at the scene and another died later in the hospital from gunshot wounds, Shekarchi said.
The men had visited the site of the parade days in advance in order to plan their attack, he said without elaboration.
Mobile phone footage published by the state-run Islamic Republic News Agency showed members of Iran's IRGC and army forces in dress uniform scrambling to the ground while gunfire erupted around them. A male voice can be heard repeatedly urging people to "get down." Another piece of footage shows people, including families and children, running from the gunfire while security forces try to duck for cover.
Ahvaz has been the subject of several attacks by separatist groups over the past 10 years. In November 2012, Iran's Ministry of Intelligence said it had arrested several members of a "terrorist group" operating in Khuzestan that had planned at least three bombings in Ahvaz targeting government offices and banks.
But while violence and bomb attacks are not uncommon on both Iran's western and eastern frontiers -- bordering Iraq and Afghanistan respectively -- audacious and organized assaults that directly target the Islamic Republic's security services in city centers are still rare.
Iranian President Hassan Rouhani promised a "crushing response" against Saturday's attack. Foreign Minister Mohammad Javad Zarif blamed the killings on "regional terror sponsors and their U.S. masters."
The National Resistance of al-Ahvaz, which describes itself as a general body comprising of a number of smaller groups, said it accepted responsibility for the attack, the BBC reported. It cited an interview with a spokesperson for the Arab Freedom Movement of al-Ahvaz, who added that the "operation was part of our legitimate resistance and no ordinary civilian was targeted."
Within hours of this statement, the Islamic State also claimed to be behind the attack and pledged more violence to avenge Sunnis. In June 2017, coordinated assaults claimed by Islamic State on the country's parliament and the mausoleum of Ayatollah Ruhollah Khomeini killed 17 people.
Iran's western border provinces are home to significant Sunni Arab and Kurdish populations. The region, particularly Khuzestan, was badly damaged after Saddam Hussein invaded the area during the Iran-Iraq war in the 1980s and became the frontline of much of the fighting.
A number of towns in Khuzestan saw some of the most violent clashes between protesters and security forces in the anti-government unrest that broke out late last year.
Sporadic protests attacking the government over water shortages in the city of Khorramshahr south of Ahvaz, also erupted earlier this summer. Ahvaz itself suffers from high levels of air pollution and winters often bring critical levels of haze and dust in the city's air.