Wells Fargo CEO Says He's Prepared to Stay Until He's 65
(Bloomberg) -- Wells Fargo & Co. Chief Executive Officer Tim Sloan said he's prepared to keep running the company for much of the next decade, as he shifts from two years of navigating crises to focusing on improving shareholder returns.
"There's growth opportunities everywhere," Sloan, 58, said in an interview Friday, commenting just two days after the bank's chairman batted back Wall Street whispers that the board is looking to replace him. "I'll stay in this role as long as the board believes that I'm the right person for the role -- and they do, and I think I am," he said. That means he could stay until the firm's retirement age of 65.
Still, he emphasized, his last day will ultimately depend on whether directors remain satisfied with his work. "It could be as long as tomorrow," he mused. "So somewhere between tomorrow and seven years."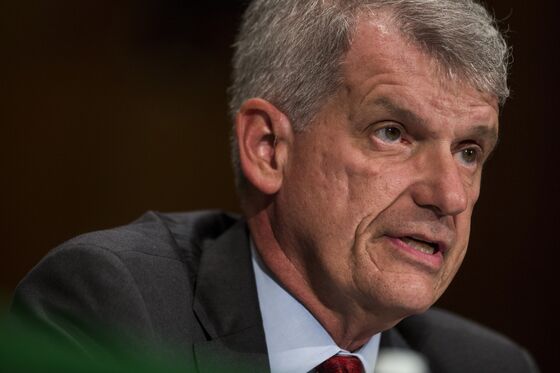 Sloan is widely credited by analysts for taking tough steps in his nearly two years atop the firm to overhaul it in response to scandals -- installing a new management team, bolstering internal controls and retooling incentives for employees. On Wednesday, Chairman Betsy Duke said he has the board's unanimous support, and that it's never wavered, as he's reshaped the company.
Sloan announced the next phase of Wells Fargo's transformation on Thursday, telling staff at a town-hall meeting he plans to reduce the workforce by about 5 percent to 10 percent within three years to focus on costs. The San Francisco-based lender, which had about 265,000 employees at midyear, is struggling to maintain profits as it resolves probes and legal claims and tries to work its way out of a Federal Reserve cap on assets.
Much of Sloan's tenure so far has focused on organizational changes to halt scandals and win back trust, persuading consumers, regulators and lawmakers that the bank has truly reformed. The next era is about executing strategic changes and improving earnings, Sloan said. That includes whittling expenses, but also innovating -- using data better and rolling out new technology.
"We want to make sure that we're providing the right return for shareholders, so we're focused on that," he said. "But not on a daily, weekly or quarterly basis -- it's over a longer period of time."
Many of the headcount reductions will come through attrition, as some workers leave on their own and aren't replaced, Sloan said. Headcount also will shrink as the bank carries out previously announced plans to close or sell branches, and as its shuts some call centers, as customers choose to rely more on technology including mobile apps.
Cuts will affect businesses across the company, as it adjusts its strategy in wealth management and in its securities arm, and as it seeks to make its mortgage-servicing operations more efficient, he said.
If the CEO has any regrets about the changes he's made so far, he said, it's the pace at which they were pushed through.
"Sometimes we haven't moved as quickly as I would have liked, and part of that is because of my leadership," he said. "When I look back and say, gosh, I think we've made all the right decisions. But are there some that I wish we would have moved more quickly on? Absolutely."