U.S. Extends Date for Cutting Ties With Deripaska's Rusal, En+
(Bloomberg) -- The U.S. extended the deadline for cutting ties with companies controlled by Russian billionaire Oleg Deripaska until just after the midterm elections, delaying a clash with Congress over the handling of sanctions against Russia.
The Treasury Department announced the extension Friday, citing a potential change in control of United Co. Rusal and En+ Group Plc.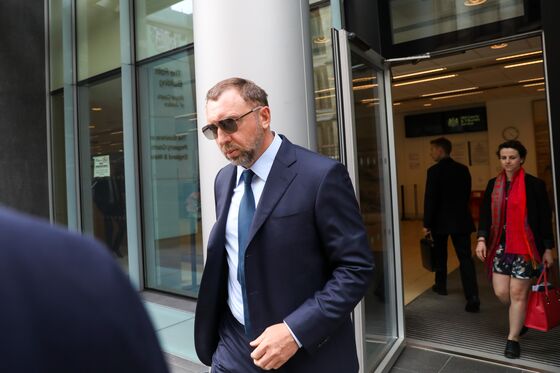 The companies have approached the U.S. about "substantial corporate governance changes that could potentially result in significant changes in control," a Treasury spokesman said in a press release without being identified. "To allow sufficient time for review, we are extending these licenses until November 12."
A senior person in Deripaska's camp said the extension is an indication that representatives of the billionaire's companies are making good progress in discussions to lift American sanctions against En+ and Rusal. The person spoke on condition of anonymity
American sanctions against Deripaska, Rusal's owner, have frozen the Russian aluminum giant -- the world's top producer of the metal outside China -- out of annual contract negotiations taking place this month. The penalties threaten to disrupt supply chains for parts critical to the automotive and aerospace industries.
Both Republican and Democratic lawmakers have criticized the Trump administration for not punishing Russia enough for election interference. Congress has called on Treasury to turn up the pressure on President Vladimir Putin, introducing competing bills on how best to thwart interference in upcoming congressional elections on Nov. 6.
In an attempt to quell lawmakers' criticism, Treasury officials have boasted about having made Deripaska "radioactive," saying his net worth has dropped nearly 70 percent this year.
The administration has said that more sanctions were in store for Russia, over election meddling and the use of a nerve agent in an attack on a former Russian spy in the U.K.
The Treasury last week allowed customers to negotiate some new contracts, as long as they are consistent with their dealings before the sanctions were imposed in April.
United Co. Rusal accounts for about 12 percent of all primary demand in the U.S., according to the Aluminum Association. Aluminum buyers in the U.S. initially raced to find replacement units when the U.S. first announced sanctions against Deripaska in April.
Producers and buyers in the American market looking to hash out annual sales contracts for next year started much earlier than usual because of the uncertainty over how the sanctions would be handled.
Deripaska in April agreed in principle to cut his stake in En+ to less than 50 percent and to appoint a majority of independent directors in a bid to persuade the U.S. to lift the sanctions.
Prices of aluminum surged to the highest in nearly 7 years in April after the U.S. announced sanctions amid speculation that Rusal's metal would not be able to be purchased by Western companies. Prices have fallen more than 20 percent since then, as Treasury extended the time for companies to wind down business with Rusal and allowed customers to extend already existing contracts.
"Today's action suggests that Treasury is interested in the plan Rusal has put on the table," said Peter Harrell, who worked on sanctions at the State Department during the Obama administration.