Swiss Bid for Sustainable Food May Run It Into Trade Trouble
(Bloomberg) -- Switzerland is set to vote on two measures intended to foster sustainable, local agriculture that could greatly complicate the import of foodstuff to the land-locked, mountainous country and even run it afoul with global trade rules.
Sunday's plebiscite comes against the backdrop of rising global trade tensions, and also just as Switzerland is trying to sort out its relationship with the European Union, its biggest trading partner. The government in Bern has warned a "yes" vote to either of the two initiatives -- dubbed "Fair Food" and "Food Sovereignty" -- could contravene Switzerland's international commitments, to the detriment of the economy.
Given the Transatlantic sparring over protectionism and Switzerland's at-times-testy relations with Brussels, "unilateralism and self-declared sustainability won't go down well," abroad, said Christian Haeberli, a fellow at the University of Bern's World Trade Institute. "By accepting those initiatives and setting up new standards for foreign goods the country could further weaken its bargaining power on the global stage."
Plebiscites are a key feature of Switzerland's direct democracy, with votes typically held four times a year on a wide range of topics, and 100,000 signatures are required to make the national ballot.
Results are due from noon on Sunday. Polls show support for the measures has been diminishing and suggest they could fail.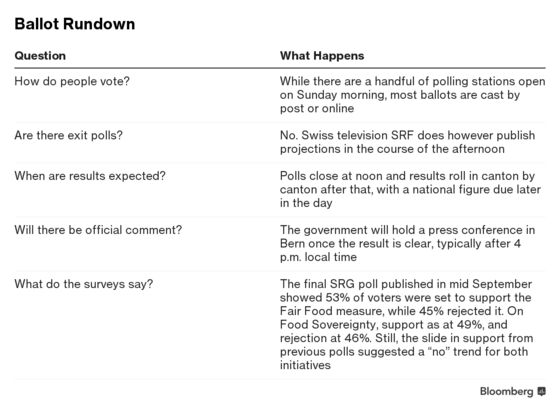 The "Fair Food" initiative requires the government to increase the availability of food produced in an ecological and ethical manner, including by promoting regional and seasonal products and by ensuring foreign imports meet certain standards.
The second measure, known as "Food Sovereignty" demands that the government determines "fair" prices for agricultural products, stops the decline of Swiss farming, bans the use of genetically modified organisms, and imposes import taxes and quotas.
While opponents, notably the government, argue the two measures are costly and cumbersome, supporters say they will help establish fair pay in agricultural sector, ensure food is of a high quality and prevent waste.
"The Fair Food initiative wants to strengthen the quality and sustainability of food, both within Switzerland and abroad," said Green Party lawmaker Maya Graf, co-chair of the committee spearheading the measure. "We're advocating a third path, as an alternative to both isolationism and unbridled free trade."