Ramaphosa Unveils Plan to Revive Frail South African Economy
(Bloomberg) -- South African President Cyril Ramaphosa unveiled plans Friday to reallocate 50 billion rand ($3.5 billion) of the national budget, set up a new infrastructure fund and implement a range of other measures to revive an economy that's mired in recession.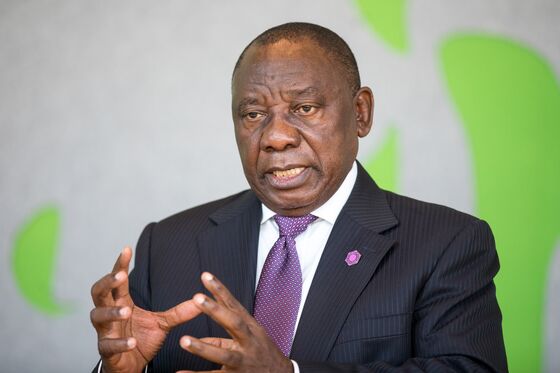 The reforms, which include new rules for the mining industry and less onerous visa requirements, will be implemented immediately and funded from within the current fiscal framework, Ramaphosa said at a briefing in Pretoria. A long-awaited announcement on the allocation of spectrum to mobile-network operators will be made in the next few weeks, he said.
"The central element of the economic stimulus and recovery plan is the reprioritization of spending toward activities that have the greatest impact on economic growth, domestic demand and job creation," the president said.
Africa's most industrialized economy contracted in the first and second quarters and the central bank projects just 0.7 percent growth this year. That's well below the 3 percent that Ramaphosa targeted in the run-up during his successful campaign to win control of the ruling African National Congress in December last year.
With elections due next year, Ramaphosa and the ANC need to show their intent to turn the economy around after almost a decade of stagnation and an unemployment rate of 27 percent. Support for the party plunged during the scandal-marred rule of former leader Jacob Zuma; it it lost control of Johannesburg, the economic hub, and other cities to opposition coalitions in a 2016 municipal vote.
"It is evident from the contraction in the economy that our economic challenges are huge and our difficulties are severe and in the end will take extraordinary effort and also take some time to overcome," Ramaphosa said. "For the economy to grow at a rate that will lead to job creation on a meaningful scale we need to significantly increase the level of investment."
State funds will be redirected toward agriculture, which the government sees as having massive potential to great jobs, as well as to stimulating economic activity in townships and rural areas. The details of which budgets will be cut will be announced in the mid-term budget on Oct. 24.
The government intends directing 400 billion rand toward an infrastructure fund over the next three fiscal years, mainly from within the existing budget, and will use those funds to galvanize additional spending from private investors. A team will be put in place to ensure projects are effectively implemented.
Other measures announced include:
A revised mining charter that will provide greater certainty to investors, revitalize the industry and broaden ownership
Withdrawal of the Mineral and Petroleum Resources Development Act Amendment Bill from parliament; the government will come up with separate laws to govern the mining and petroleum industries
A review of electricity, port and rail tariffs to reduce the cost of doing business, boost exports and make the industry more competitive
A panel of 10 experts will be established to advise government on the implementation of a fair and equitable land-reform process