Pot-Enthusiasts Beware: GTx Shows How a Hot Trend Can Reverse
(Bloomberg) -- Here's a warning to all of those trading pot stocks at biotech-like valuations: The fall is swifter than the rise.
Case in point: GTx Inc. Shares plunged more than 90 percent to a record low on Friday after the company's incontinence drug failed a phase two clinical trial. The Memphis, Tennessee-based company had gained 83 percent year-to-date as of Thursday's market close.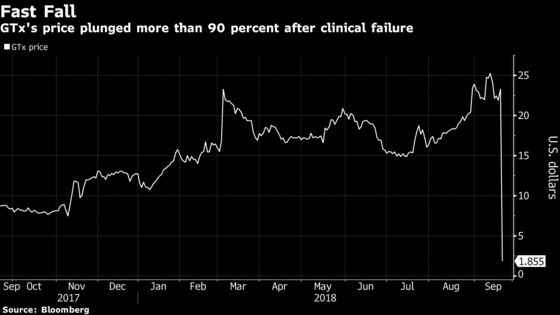 Baird analyst Michael Ulz revised his recommendation down to neutral and Stifel analyst Dr. Adam Walsh cut his rating to hold on Friday. Both analysts cut their price targets to $2 following the failed trial from $30 and $45, respectively.
A Stifel note on Friday raised the possibility that "with no approved products, additional financing may be necessary, which could dilute shareholders' earnings."
Shares traded at $1.86 as of 2:31 p.m. in New York.