Jump in Japan's Fresh Food Prices Could Squeeze Consumption
(Bloomberg) -- Sharp gains in Japan's fresh food prices could spark a fall in overall consumption that softens economic growth and weakens underlying inflationary pressures.
Inflation data for August, released Friday, showed growth in overall consumer prices from a year earlier accelerating sharply to 1.3 percent from 0.9 percent in July, outpacing gains in core prices targeted by the Bank of Japan. That presents a risk of Japanese households paring back their spending in response to a jump in fresh foods caused by bad weather and an earthquake this summer.
Economists are flagging a possible case of deja vu as a pattern of sharp jumps in vegetable prices starting at the end of last year weighed on consumption in the first quarter, contributing to the Japanese economy's first contraction in over two years.
"Today's data point to a risk of weak consumer spending and a slowdown in the economy," said Hiroshi Hanada, head of economic research at Sumitomo Mitsui Trust Bank. He said that with only gradual increases in wages, households don't react well to jumps in overall prices.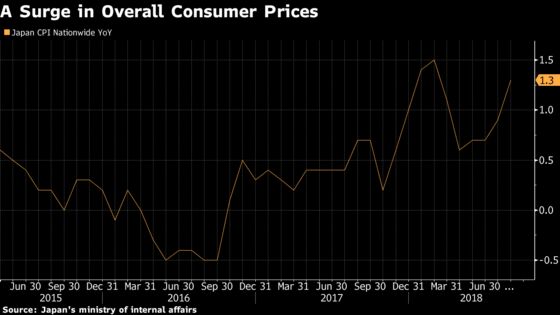 According to a Bloomberg survey published Thursday, economists have already sliced in half their expectations for consumption in the third quarter compared with their predictions in August, following the Hokkaido quake and a typhoon that battered Japan's manufacturing heartland around Osaka.
The survey showed growth in consumer spending will slow to an annualized 0.5 percent in the third quarter, from 2.9% in the three months to June.