Wall Street Wins Its High Stakes Bet on Akzo Nobel Buyout
(Bloomberg) -- The decision of a group of Wall Street banks to underwrite the buyout financing for Akzo Nobel NV chemicals unit paid off, with the 6.4 billion-euro ($7.5 billion) debt sale wrapping up this week after attracting overwhelming demand. But it was a close call.
Barclays Plc, HSBC Holdings Plc and JPMorgan Chase & Co. earlier this year committed to fund Carlyle Group LP's $12.5 billion acquisition of the Akzo Nobel business at a time when the leveraged finance market was burning hot. But then sentiment turned, high-yield debt sold off, and lenders were left with a binding commitment and the possibility of taking a loss.
As recently as two weeks ago, the debt arrangers were faced with the prospect of losing fees and even perhaps taking a hit on at least one of the tranches on the financing. The dollar bond deal sale, which kicked off on Sept. 7, started above the underwritten price limit, according to people familiar with the matter who aren't authorized to speak publicly.
But a revival in demand for credit this month, with U.S. high-yield spreads now at their tightest level since April, together with backing from asset-hungry U.S leveraged-loan investors, helped get the arranging banks off the hook. And after receiving in excess of $20 billion of orders, more than $6.5 billion of loans and $1.2 billion of bonds priced on Thursday, and these underwriters and other lenders in the bank group secured their fees.
"Huge" Interest Savings for AkzoNobel Chemicals: Spread Research
Barclays spokesman Andrew Smith declined to comment, HSBC spokesman Steven Vames declined comment, and JPMorgan spokeswoman Jessica Francisco declined to comment on the financing. Carlyle spokeswoman Christa Zipf also declined to comment.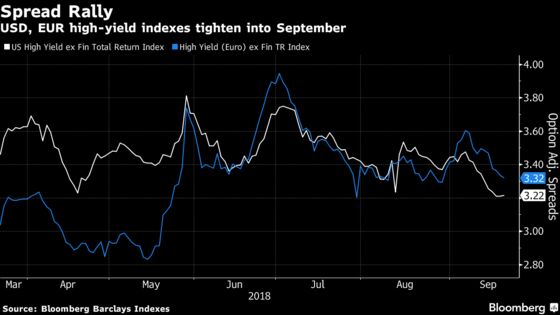 Banks were exposed not just because they had committed to a pricing level no longer in line with the market but also because of a promise a particularly borrower-friendly clause would remain intact when the debt was sold down to investors, the people said.
Both the pricing commitment and the covenant -- allowing Carlyle greater than usual freedom to pay itself a dividend from selling off assets -- risked being rejected by investors. Holding on to that clause, dubbed "aggressive" by some investors, might mean underwriters not being able to syndicate the debt, a so-called 'hung deal', or having to sell it at a substantial discount, eating into their fees.
When the bond sale began, the proposed 9 percent yield on a $600 million bond tranche breached the 8.25 percent upper limit of what the underwriters could charge Carlyle, the people familiar said. Then credit spreads began to tighten, and momentum began to build. The dollar bond got a rush of orders totaling more than $2.5 billion, allowing the proposed yield to drop to a range of 8 to 8.25 percent before pricing at 8 percent. The whole deal attracted orders of more than $20 billion.
The asset disposal clause was said to be integral to the economics of the Akzo Nobel deal for Carlyle, which had written a 3.4 billion-euro equity check to secure the deal. The leverage test ratio for when the covenant kicks surprised some market participants, with comments saying it didn't go far enough. Typically, lenders have a priority claim on assets before owners but that right has been eroding as debt investors reach for yield.
Leveraged finance investors and borrowers have been tussling over the fine print of debt deals throughout the year, with Carlyle's deal coming shortly after Blackstone Group LP sought to insert looser-than-normal terms into its recent jumbo financing backing the buyout of Thomson Reuters Corp. unit Refinitiv.
"There has been more noise over leveraged credit documentation from buy side accounts and sponsors are focused on key flexibilities that they need in documentation to deliver their investment thesis," said Neel Sachdev, partner at law firm Kirkland & Ellis who specializes in LBO financing, and was not involved in the Akzo Nobel deal.