Debenhams Investors Debate Options as Concern Grows for Retailer
(Bloomberg) -- Debenhams Plc shares closed below 10p for the first time ever on Thursday -- symbolizing the extent of the challenge facing the retailer as it prepares to meet investors next week.
Pummelled by three profit warnings this year, the U.K. department-store chain is the most shorted stock in the FTSE All-Share Index. While bulls still hold out hope of recovery, they could badly use some good news, starting at a capital markets event on Monday.
Debt is a key concern. Debenhams' already-junk credit rating was cut by Moody's last month, prompting the company to reassure investors it has acted "decisively" to improve its financial position. Withholding the dividend is an option that investors such as Sports Direct Plc and Invesco Perpetual have said they would be prepared to accept if it helps boost cash flow in the short term. Lenders have granted Debenhams more flexibility under its banking covenants.
"This is clearly a high risk situation," Martin Walker, a fund manager at Invesco Perpetual, said in a phone interview. "Every pound of the business's debt that's paid off is a step back away from a cliff edge."
With the shares down more than 70 percent this year, any improvement in like-for-like sales or recovery in gross margin would help boost the stock price, according to Walker. "Any good news here is amplified to a much greater extent than it would be in much more profitable retailers," he said.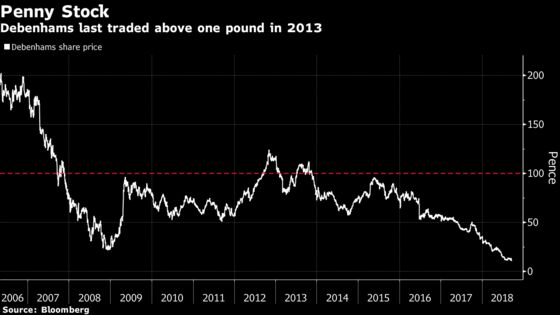 Here's a round-up of what investors think Debenhams should do:
Biggest shareholder Sports Direct said this week it has been "strongly encouraging" Debenhams Chairman Ian Cheshire to axe the dividend entirely and manage cash more prudently. Sports Direct holds almost 30 percent of voting rights in Debenhams.
As well as cutting its dividend, Debenhams needs to reduce capital spending and sell its Magasin du Nord chain in Denmark, according to Invesco Perpetual's Walker. He started buying Debenhams shares in November 2017, though his holdings currently make up about 40 basis points in Invesco Perpetual's 1.2 billion-pound ($1.5 billion) U.K. Growth Fund. "If forecasts hold where they are now, this business should generate cash over the Christmas period, which will help pay down debt," Walker said.
Debenhams' main problem is that it has too much debt and someone needs to help the retailer solve that issue, according to Alasdair McKinnon, investment manager at Scottish Investment Trust. "The business is possibly recoverable, but maybe not in the public market," Edinburgh-based McKinnon said by phone, adding that he hasn't been following the situation closely. He doesn't own any shares in Debenhams.