Crispr Appears 'Crispy and Overcooked,' Says Analyst
(Bloomberg) -- Investors who eagerly chased Crispr Therapeutics AG's scorching run this year may want to slam on the brakes.
Raymond James analyst Steven Seedhouse said the gene-editing pioneer that's among the year's hottest biotech stocks appears "crispy and overcooked," assigning the company its first sell-equivalent rating.
His reasoning is that its lead product has a tough hurdle to surmount. While an early-stage study on the drug, in partnership with Vertex Pharmaceuticals Inc., for the treatment of beta thalassemia started recruiting patients in Europe last month, a trial of the treatment in sickle cell disease remains on hold by U.S. regulators.
The medicine, CTX001, will be "hard pressed to match" the high levels of hemoglobin increase competitor Bluebird Bio Inc.'s therapy has shown, Seedhouse wrote in a note, warning that Crispr's early data that are expected next year may disappoint or appear uncompetitive.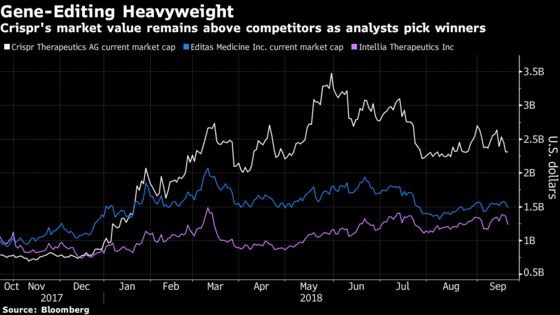 Crispr fell as much as 11 percent in New York on Friday to the lowest level since April 6.
Editas Medicine Inc. may emerge as the favorite to be the "first Crispr to market," Seedhouse said, noting that could deflate Crispr's relatively high market value. The company, which hasn't treated a single patient in the U.S., has a total market capitalization of $2.3 billion. By comparison, Editas and Intellia Therapeutics Inc., which are similarly positioned, are each worth less than $1.5 billion.
The market's punishing reaction to Sangamo Therapeutics Inc. after data of its medicine suggested that the "benefit of the doubt or platform value" Wall Street ascribes to these booming technologies will become harder to justify if the results are inconclusive or don't stack up well with gene-editing competitors, Seedhouse said.
Plus, there are reasons for investors to get excited for Editas, beyond the fact that shares are up just 2.7 percent for the year. Seedhouse highlighted that its lead indication for a cause of blindness due to genetic disease in children has the easiest comparisons to existing therapies. The closest competitor to stack Editas' EDIT-101 therapy up against in Leber's congenital amaurosis 10 is ProQR Therapeutics NV. The Cambridge, Massachusetts-based biotech's results from earlier this month actually help to de-risk concerns for EDIT-101 instead of presenting an unattainable hurdle, Seedhouse said.