Bulls Gain Conviction in Oil Rally as OPEC Ministers Gather
(Bloomberg) -- As traders await this weekend's OPEC meeting, they're steadily growing more convinced that oil prices still have room to rise.
Money managers' wagers on higher Brent crude prices are having their longest streak in almost a year. A meeting slated to begin Saturday in Algiers between the Organization of Petroleum Exporting Countries and allies may reveal whether the group will boost output to offset Iran's plunging crude exports before the U.S. restores sanctions.
"We're in the process of facing a potential real supply crunch," said John Kilduff, a partner at New York-based hedge fund Again Capital LLC. "It's engendering even more and more buying."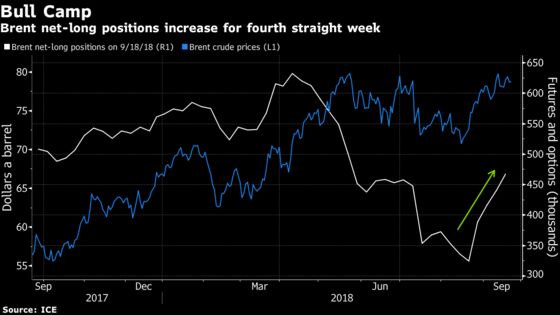 This week, U.S. President Donald Trump urged OPEC to take action to bring the global oil benchmark down from near $80 a barrel. JPMorgan Chase & Co. said Iranian sanctions could push prices to $90 since the restrictions may outweigh any hit to demand from emerging market weakness.
Investors are awaiting any sign from Saudi Arabia or Russia that the two might further boost output to counteract weak Iranian exports.
While U.S. measures targeting Iranian exports will go into effect only on Nov. 4, the impending restrictions are already succeeding in forcing buyers to curb purchases. The country's shipments have been falling at a rapid clip, with flows already down by 1 million barrels a day from April, according to Bloomberg tanker tracking.
Saudi Arabia, Russia and U.S. shale producers "have the ability to fill some of that gap," said Mark Watkins, who helps oversee $151 billion at U.S. Bank Wealth Management. "The big wild card" is that "if something else happens, an outage in Nigeria, Libya, that's where you start to have those external shocks that become much larger."
Hedge funds' net-long position -- the difference between bets on higher prices and wagers on a drop -- in Brent rose 6.3 percent to 467,878 contracts for the week ended Sept. 18, the highest in almost four months, ICE Futures Europe data show. Longs rose for a fourth straight week, while shorts dropped to the lowest since April.
"In the near-term, the main story driving the upside is the sanctions on Iran, and that has more of an impact on the Brent market," said Tamar Essner, an analyst at Nasdaq Inc. in New York.
The net-long position in WTI crude declined 3.8 percent to 333,108 futures and options, according to the U.S. Commodity Futures Trading Commission. Longs slid 3.9 percent, while shorts fell 5.6 percent. Total positioning on WTI dropped to the lowest since 2016.
Money managers boosted their net-long positions on benchmark U.S. gasoline by 5.5 percent and cut their bullish bets on diesel by 6.2 percent, according to the CFTC.