Brussels Edition: Turkish Thaw
(Bloomberg) -- Welcome to the Brussels Edition, Bloomberg's daily briefing on what matters most in the heart of the European Union. 
The European Union's relations with Turkey have been at rock bottom for over a year, but the realpolitik of dealing with Donald Trump has encouraged both sides to build bridges. Even with no money on the table to help a Turkish economy ravaged by double-digit inflation, the thaw may continue today as two top German cabinet members host Turkish Finance Minister Berat Albayrak in Berlin, a prelude to Angela Merkel welcoming Turkish President Recep Tayyip Erdogan next week. The rapprochement is important: The EU needs the refugee deal with Turkey to hold, while concerns about the spillover of an economic crisis loom large. 
Week Ahead | It's Friday, time to update your week-ahead diaries. On Monday, Mario Draghi briefs the EU Parliament's ECON Committee, which later in the day will vote on new rules for investment firms. Margrethe Vestager on Tuesday begins her U.S. tour at a Georgetown Law conference in Washington. The same day, EU trade chief Cecilia Malmstrom meets with U.S. Trade Representative Robert Lighthizer and Japan's Minister of Economy Hiroshige Seko in New York to discuss WTO reform.
Italian Numbers | Finance Minister Giovanni Tria today gets the last piece of economic data needed to decide whether Italy can afford to start tax cuts and provide a basic income promised by the populist government. Istat will release final 2017 output figures, giving the minister an indication of how much he can spend. Will it be enough to keep the coalition leaders at bay?
Polish Standoff | A European Parliament delegation today concludes a visit to Warsaw assessing compliance with the rule of law. The commission is considering whether to take Poland to the European Court of Justice over its Supreme Court revamp. The EU's executive said this week it is increasingly concerned over the erosion of Polish democracy, while Prime Minister Mateusz Morawiecki reiterated that his government's actions are consistent with European standards.
Summit Takeaways | Here's our quick roundup from the Salzburg Summit: "Operation Save May" was aborted for now, EU leaders blew off steam over migration without really resolving any of their differences, but "at least they avoided boxing," as a Brussels official put it in a briefing to journalists. Join us for the next episode on Oct. 18.
Soy Appetite | Donald Trump should be pleased. The U.S. is now the EU's largest supplier of soybeans with a share of 52 percent — up from 25 percent in the same period last year — just two months after the bloc pledged to lower trade barriers and buy more American agricultural products. 
In the Family | Although most Christian Democrats in the European Parliament joined a big majority to censure Hungary, few are rushing to expel Prime Minister Viktor Orban's Fidesz party. The stance of the Christian Democrats, also known as the European People's Party: Concerns about the rule of law affect left-of-center as well as right-of-center governments. For the EPP, Hungary is a family matter best handled through internal dialogue and compromise.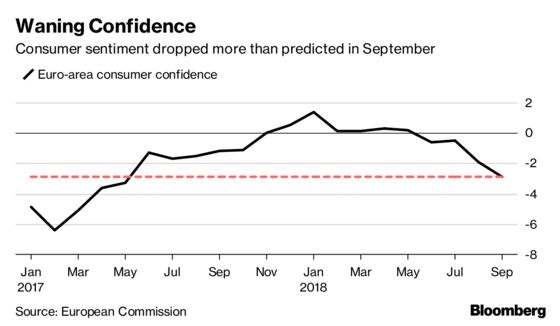 Consumer confidence in the euro area continued to slide in August, dropping to the lowest level since May 2017 amid trade tensions and emerging market stress. A European Commission index of household sentiment fell to minus 2.9 points, below even the most downbeat forecast of economists in a Bloomberg survey. The gloomy report coincides with the latest OECD forecast, which said the global economy is shrouded in "high uncertainty."
Civil Liberties Committee MEPs conclude visit to Poland to assess the rule of law and respect for fundamental values
Eurostat to release data on electricity from renewable sources 
Like the Brussels Edition?