Brexit Bulletin: 'Humiliation'
(Bloomberg) -- Today in Brexit: The British prime minister spent less than 24 hours at an EU summit in Salzburg, Austria. Its fallout will be felt for much longer.
Theresa May woke up this morning to some of the most damning newspaper front pages of her premiership.
It wasn't supposed to be like this. European Union officials had briefed for weeks that the summit in Salzburg was about giving May enough reassurance to take to the annual Conservative party conference at the end of the month and see off threats to her leadership. Leaders would talk up the good parts of her "Chequers" blueprint for post-Brexit ties, such as security cooperation, and, for now, gloss over the parts they will never sign up to, mainly her vision for a close economic relationship.
But that charade depended on May also keeping a measured tone. Officials said leaders were irked by an opinion article penned by May in German newspaper Welt on the eve of the summit that signaled she wasn't gearing up to make the concessions the EU is looking for, diplomats said. Her speech to her 27 counterparts after dinner in Salzburg on Wednesday night merely echoed that op-ed. She said the EU's proposal to prevent a hard Irish border – now the key sticking point – "wasn't credible."
Led by French President Emmanuel Macron, the EU fought back, going much farther than expected and trashing her proposals in public. Nobody should be surprised that France is the main opponent. Diplomats say French officials reject compromises at every turn during Brexit discussions in Brussels. But in Salzburg Macron had the support of German Chancellor Angela Merkel, too.
In substance, not a lot has changed. Leaders only said in public at the summit what EU officials – including chief negotiator Michel Barnier – have said for weeks: May's Chequers plan to remain in the single market for goods but not services won't fly; there won't be agreement on the Irish border until the U.K. concedes that Northern Ireland has a special status, allowing it closer ties than the rest of Britain to the EU.
The EU is gambling that May will ultimately cave in. Generally, they assume she will. Salzburg left them wondering.
The optics matter, too. European diplomats say they recognize that May may need to have a fight with "the nasty EU" to give her support at home to sell a compromise, and they're willing to play along if necessary. But if this morning's headlines are anything to go by, that strategy's success is far from a given.
Bad Look | Failure to secure a deal on Brexit would send a "terrible'' message to the rest of the world and make losers of both the U.K. and the EU, U.K. Business Secretary Greg Clark said in an interview. "It would be a shocking sign to the rest of the world if friends and neighbors who share so many of the same values, if we were not to be able to agree," Clark told Bloomberg News in his hometown of Middlesbrough, northeast England.
Galileo No-Go | Greg Clark also said he has seen little shift in the EU's "insulting'' stance on a post-Brexit U.K. role in the Galileo satellite navigation program. The 10 billion-euro ($11.7 billion) program emerged as an area of friction in Brexit talks earlier this year.
All Options | "A 'blind' Brexit with little or no detail on terms of the future EU-U.K. relationship would be no more acceptable than a 'no deal' Brexit," First Minister of Scotland Nicola Sturgeon said on Twitter. "If that's the choice, Article 50 should be extended to allow all alternative options for Scotland and U.K. to be considered," she said.
Nearly There | Spanish Prime Minister Pedro Sanchez said he was hopeful an agreement on Gibraltar, a key part of any Brexit deal, could be reached with the U.K in mid-October.
Not Her Moment | Gina Miller, the wealth manager whose court action forced the U.K. government to get parliamentary approval before opening Brexit talks, said she isn't ready to move into politics just yet. She has been touted as a possible leader of the Liberal Democrats. "I'm not saying never," Miller said at Bloomberg's European HQ in London. "I'm not saying now because there are some things that have to change." 
On and On | Not everyone in the EU thinks November is the final deadline for a Brexit deal. Some reckon it could go into next year and wouldn't mind too much if it does, according to a government official from an EU-27 country, who declined to be named. Veterans of EU crisis summits know that these negotiations always go down to the wire. The official EU position is that it should be done in time for parliaments on both sides to ratify before exit day on March 29, 2019.
Out of Fashion | In the 1990s heyday of "Cool Britannia," designers John Galliano and Alexander McQueen ruled the runway, Burberry's tartan was the design of the moment and model Kate Moss zipped around the globe to the tune of Oasis and the Spice Girls, sporting a Union Jack blazer. In Brexit Britain, things have changed. Suzi Ring and Robert Williams report on the U.K. retail industry trying to stay fashionable in troubled times.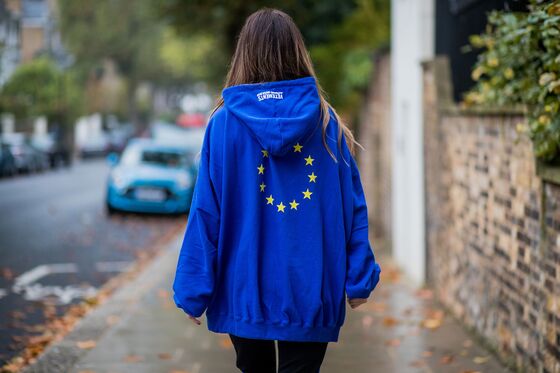 Want to keep up with Brexit?