Billionaire Cohen's Point72 Triples Stake in Food Behemoth Bunge
(Bloomberg) -- Billionaire Steve Cohen's Point72 Asset Management has almost tripled its stake in agribusiness giant Bunge Ltd., a company that's been the subject of takeover speculation over the past year.
Point72 owns 7.1 million shares, representing a 5 percent stake in White Plains, New York-based Bunge, according to a regulatory filing last week. That's up from 2.4 million held at the end of the second quarter. Based on Thursday's closing price, the stake is worth $467 million and makes Point72 the fourth largest shareholder in Bunge.
Bunge shares pared losses Friday to post a ninth straight day of gains.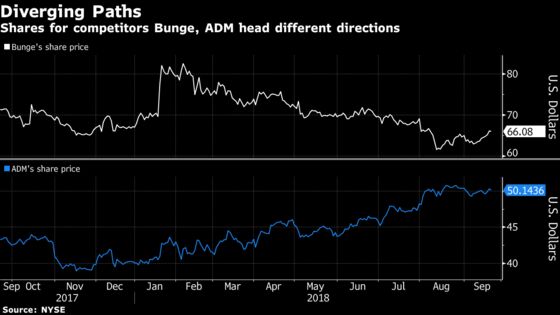 Bunge, which declined to comment for this story, is the "B"' of the storied "ABCD" group of companies that have dominated agricultural trading for more than a century. The 200-year-old trading house has been at the center of industry deal speculation for over a year as its performance has lagged that of competitors. Archer-Daniels-Midland Co., Cargill Inc. and Louis Dreyfus Co. rounds out the quartet.
Click here for Bunge's take on possible deals
Investors are increasingly antsy. Bunge's down about 7 percent in the past year. At its annual meeting in May, 20 percent of its shareholders voted against the re-election of Chief Executive Officer Soren Schroder to the board, almost double the percentage a year earlier. Chairman L. Patrick Lupo had 26 percent of votes cast against his re-election, up from 11 percent in 2017, a filing showed.
In March, Continental Grain Co. disclosed that it owned more than 1 percent of Bunge and planned to hold discussions with the company about a possible sale, people familiar with the matter said at the time.
Then last month, Bunge reported a surprise second-quarter loss attributable to wrong-way bets in the soybean market. The company said it expects to reverse mark-to-market losses later in the year.
Cohen's "historically" not an activist investor, instead "looking to sort of play over-corrections," said Seth Goldstein, an analyst at Morningstar in Chicago. "Bunge is a high-quality, stable business that's really been beaten down this year."
Mark Herr, a spokesman for the Stamford, Connecticut-based hedge fund, declined to comment.
"A large hedge fund position could mean that they think the second half story makes sense," Goldstein said. "It could also be a sign that they think if Bunge can't turn it around that it would set" the stage for a merger.