Namibia Economy Contracts for 9th Quarter as Manufacturing Drops
(Bloomberg) -- Namibia's economy contracted for a ninth straight quarter as manufacturing declined.
Gross domestic product shrank 0.2 percent in the second quarter from a year earlier, Statistician-General Alex Shimuafeni told reporters Thursday in the capital, Windhoek. That's the longest streak of contractions since at least 2008.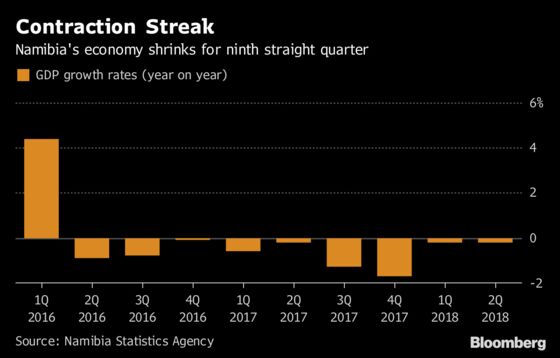 Moody's Investors Service cut the southwest African nation's credit rating to junk a year ago, citing an increasing debt burden, the erosion of fiscal strength and the risk of renewed government liquidity pressures in the world's biggest producer of marine diamonds.
"Government efforts to improve the fiscal space by reducing and capping unnecessary expenditure through fiscal consolidation is exerting further pressure on the economy, evidenced by the poor performance of health and education sectors that recorded negative growth rates of 4.9 percent and 6.2 percent respectively," the agency said in a statement.
Manufacturing contracted 13 percent, while the wholesale and retail sectors dropped 5.8 percent, the agency said.