Tilray Joins Tesla Among Decade's IPO Elite in Just 2 Months
(Bloomberg) -- The rally in Tilray Inc. has reached historic proportions.
In its greatest surge yet, the newly-public pot purveyor jumped by as much as 55 percent on Wednesday to $240.00 per share -- more than 14 times July's initial public offering price of $17. Among U.S. listings over the past decade, only Tesla Inc. is trading at a higher premium to its IPO price, according to data compiled by Bloomberg and excluding companies worth less than $1 billion at their debut.
But while Tesla has taken eight years to rise 1,605 percent above its IPO price, Tilray stormed into second place just two months after going public. Shares traded 1,304 percent above the offering price on Wednesday, after CEO Brendan Kennedy touted the company's growth prospects.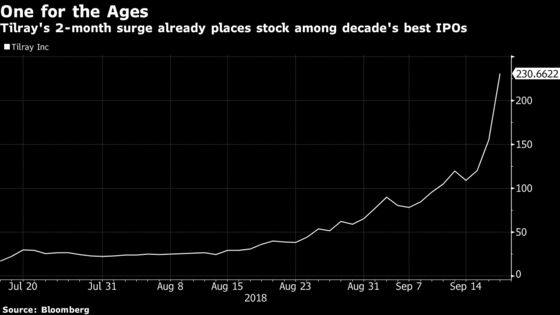 Both companies have been targeted by short sellers including Citron Research, whose founder recently sued Tesla and earlier today called Tilray's surge incomprehensible.
"This is just the dynamic of trading low float stocks," the firm said in a tweet. "Yes we are short and will hold a manageable position until rationality sets in." Short interest represents 28 percent of Tesla's float and 34 percent of Tilray's float, according to financial analytics firm S3 Partners.
Tilray's rise has placed the stock among elite company. While still trailing Tesla, Tilray has surged past other top IPOs from the past decade including ServiceNow Inc., Square Inc. and Twilio Inc.