Tesco Undercuts Lidl and Aldi 
(Bloomberg) -- Tesco Plc is fighting back against German discounters Lidl and Aldi with a new line of stores that are wooing budget-conscious shoppers with a patriotic pitch.
Tesco unveiled its first Jack's store -- named after the U.K. supermarket chain's founder, Jack Cohen -- in a small town 80 miles north of London. Private-label products, featuring a red Jack's logo and sometimes adorned with British flags, make up more than half the total range.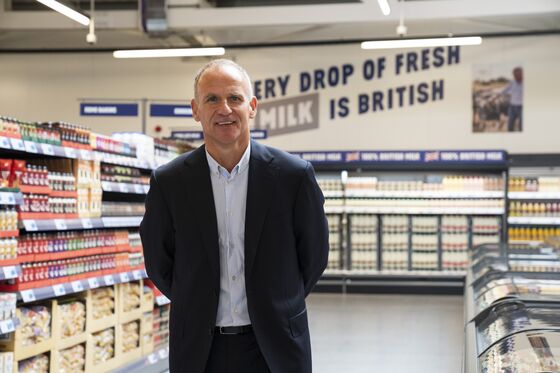 "The intention is for us to be cheapest in town," Chief Executive Officer Dave Lewis said at the event in Chatteris, England.
It's the first of 10 to 15 openings planned over the next year offering low prices such as 2.89 pounds ($3.81) for a liter of olive oil. Shoppers can scan their items as they take them off the shelves with a smartphone app and then pay at the end. Tesco is investing 20 million pounds to 25 million pounds on the format.
With the new chain, Tesco has to walk a fine line, challenging the discounters while avoiding cannibalization of its main store brand with lower prices. The U.K.'s largest retailer has struggled to compete in recent years as cheaper supermarket chains such as Lidl and Aldi have clawed away market share.
U.K. flags emblazoned on Jack's products including milk, cereals and potato chips advertise their Britishness, reflecting a push by grocers to emphasize local roots as shoppers want to see them do more about sustainability. Tesco said eight out of every 10 products in Jack's will be produced in Britain. The flag-waving also lets Tesco contrast its U.K. roots with the German ownership of Lidl and Aldi, at a time when Brexit has heightened some Britons' awareness of nationality.
"With its heavy Union Jack branding and promises on provenance, Jack's is clearly looking to make its name as a solid British retailer," Fraser McKevitt, head of retail and consumer insight at Kantar Worldpanel, said in a note.
Tesco has also had to contend with consolidation in the market, opting to acquire wholesaler Booker earlier this year just before J Sainsbury Plc agreed to purchase Walmart Inc.'s Asda. The moves appear to be paying off, with Tesco posting its 10th consecutive quarter of growth in June, as it cut prices to ward off rivals.
The growth comes after a turbulent period for Tesco. The supermarket chain struggled to compete with changing market headwinds and just two months after Lewis took over in 2014 an accounting scandal wiped 2 billion pounds ($2.8 billion) off its market value.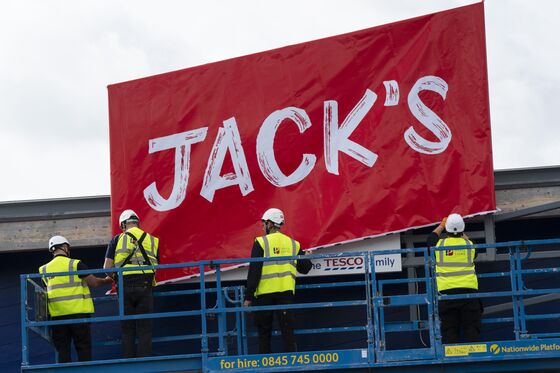 Just as Amazon.com Inc.'s expansion into grocery adds to competition, Tesco is starting Jack's out as a traditional brick-and-mortar operation with no online shopping.
The German discounters continue to make inroads, with Aldi's share of U.K. grocery sales rising to 7.6 percent in the 12 weeks through Sept. 9 from 7 percent a year earlier, according to Kantar. Lidl rose to 5.5 percent from 5.3 percent in that period, while Tesco slipped by half a percentage point, to 27.4 percent. At the planned rate of openings, Jack's "isn't going to make an immediate dent in the competition's market share," McKevitt said.
Five of the new Jack's stores will be at locations Tesco has that are vacant or it's repurposing. By shifting to the new brand it will be able to tell more easily whether a site is viable.
"If a standalone discount store isn't making money in cash, I would imagine they would shut it," said Alasdair McKinnon, investment manager at Tesco shareholder Scottish Investment Trust, in a phone interview.
Other U.K. grocers have struggled to break into the discount business. Sainsbury opened stores under the Netto brand in 2014 but shut them two years later. The company has vowed to cut prices on some products by as much as 10 percent as a result of the Asda deal, which U.K. competition regulators are reviewing on a fast-track basis.