Richest Brits Too Nervous on Brexit to Make Green Investments
(Bloomberg) -- The U.K.'s richest citizens are so worried what Brexit will do to their portfolios that they are steering away from more unconventional green investments.
That's the conclusion of a report by Swiss bank UBS Group AG's wealth management arm. The result is surprising since Britain is one of the leaders in sustainability and green energy, having installed more wind turbines at sea than any other nation. At the same time, its high net worth investors are lagging behind the rest of the world on sustainable investing.
"There's a gap between how we live in the U.K. and how we invest," Helen McDonald, a director at UBS Wealth Management, said at a briefing in London. "We really are somewhat below the curve here."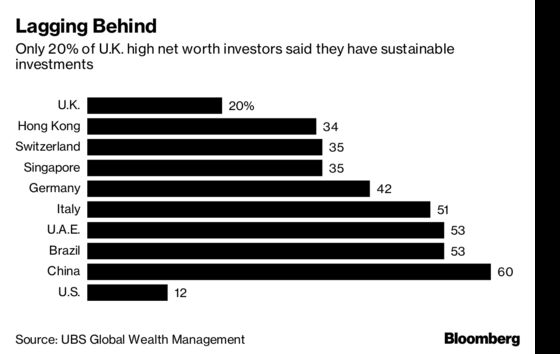 One explanation can be found is that the future of the British economy going forward is less clear than it was before the Brexit referendum in June 2016. The pound has lost nearly 12 percent of its value against the dollar and the kind of deal Prime Minister Theresa May may be able to strike with the European Union remains very uncertain.
Only 39 percent of U.K. investors are optimistic about the country's economic outlook, according to the UBS report.
That may have contributed to a hesitance to pivot away from traditional investing. Only 20 percent of the people surveyed in the U.K. said their portfolios contain some sustainable element. That's half the global average, and compares with investors in emerging markets -- 60 percent in China and 53 percent in Brazil say they allocate to these asset classes.
The U.K. investors said they are concerned about lower returns, they doubt that investing green actually generates a real impact, and also cited a lack of track record and an understanding of the sector.
While the sustainable investing subset is nascent compared to financial services overall, evidence is starting to build that taking environmental, social and governance factors, known as ESG, into account when making investment decisions can result in matching or even outperforming benchmarks.
A global study conducted by HSBC Holdings Plc earlier this month showed that nearly three quarters of institutional investors with an ESG strategy said that their primary reason to do so was financial returns.