The Hype Around Pot Stocks Is Catching Up to the Crypto Craze
(Bloomberg) -- Crypto stocks were all the rage last year, until they weren't. Will cannabis companies meet the same fate?
Shares of Tilray Inc. have rallied more than 1,000 percent since the Canadian pot firm went public in July, leaving some of the most hyped digital-currency companies in the dust. By comparison, Riot Blockchain Inc. only surged around 400 percent after the former machinery maker for the biotech industry ditched its old name, Bioptix Inc., in October.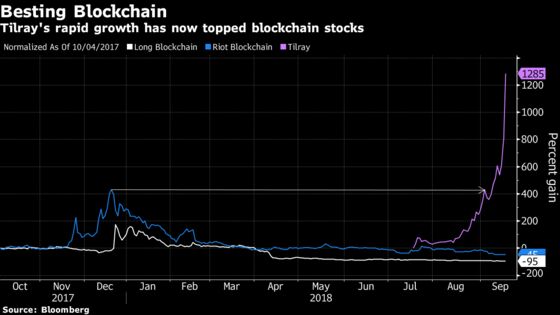 Tilray shares skyrocketed 50 percent on Wednesday alone after Chief Executive Officer Brendan Kennedy claimed the company may one day be among a few other players in the industry with a valuation north of $100 billion. That followed a 30 percent increase on Tuesday after the firm got approval from the Drug Enforcement Administration to import cannabis into the U.S. for medical research. Tilray isn't alone. Alkaline Water Co. and New Age Beverages Corp. also rallied recently after eyeing cannabis-related drinks.
Companies that rebranded with crypto or blockchain late last year saw dramatic gains in their share prices, but the euphoria was short lived. Many of the stocks plummeted when the Bitcoin bubble burst. Long Blockchain Inc. had lost 90 percent of its value around 75 trading days after Bitcoin's peak. Some have speculated that we're in the midst of a market rotation from crypto to cannabis.
"Crypto traders I know are getting into pot stocks," Jeffrey Van de Leemput, founder of investing-education platform Cryptocampus, said in a message. "But I don't know if that's a pattern or just coincidence."