Ryanair CEO O'Leary Admits He Needs to Improve His Performance
(Bloomberg) -- Ryanair Holdings Plc Chief Executive Officer Michael O'Leary has presided over years of rising profits and passenger growth at Europe's biggest discount airline.
But the outspoken executive is striking a more humble tone before the carrier's annual shareholder meeting on Thursday outside Dublin.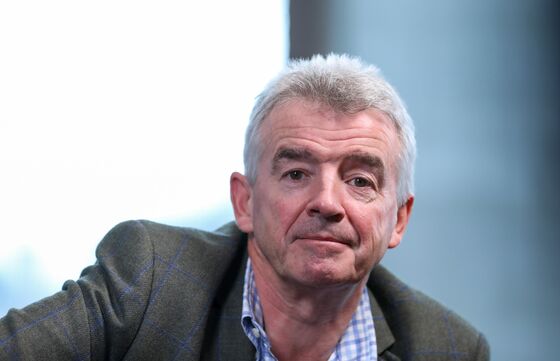 "I am no longer in the position given the job I've done over the last 12 months to be haranguing others about the job they're doing," he said last week, when asked about a hacking incident at rival British Airways. "I have enough to do myself at Ryanair and clearly I need to improve my own performance."
Ryanair is facing a turbulent annual general meeting amid planned strikes in five European countries and shareholder concerns that the company's board lacks independence and chairman David Bonderman is too close to O'Leary. The carrier is forecasting its first profit drop since 2014 this fiscal year, hit by higher fuel prices, competition and the cost of labor unrest.
Ryanair was forced to reverse its long-held policy of not recognizing unions last year in the wake of a scheduling crisis that gave staff increased bargaining power. While it's notched a deal with Irish pilots in August, most other unions are holding out. The company has suffered months of labor disputes that threaten to push up costs as it's forced to renegotiate terms with its staff.
Now a laundry list of investors and public pension funds have said they would vote against Bonderman, the billionaire co-founder of TPG Capital and O'Leary ally who has served in the role for more than 20 years. The holders include the Local Authority Pension Fund Forum, the California State Teachers' Retirement System, California Public Employees' Retirement System and Royal London, along with advisory firms PIRC, ISS and Glass Lewis PIRC also opposes the re-election of O'Leary.
HSBC analyst Andrew Lobbenberg said in a phone interview that the independence of the Ryanair board didn't appear strong. "The fact that you've got a chairman in place for 26 years is unusual. Twenty-six years is quite an extreme duration on a board."
Ashley Hamilton Claxton at investor Royal London said it had "long-standing issues" with the extent to which the board could provide "effective challenge" to management decisions.
O'Leary still expects his chairman to be re-elected with a huge majority, he said in a Bloomberg TV interview last week. Last year, 89 percent of shareholders voted in favor of Bonderman's re-election. The company said on Wednesday that Ryanair shareholders would pass all AGM resolutions by a large majority.
"10 years is too much for some non-executive directors because they're useless," O'Leary said in the interview. "In other cases you should hang on to the better ones for 20 years if need be because they make a contribution."
The airline has barred journalists from attending the meeting, saying it wants shareholders to "discuss all matters freely with the board without these discussions being distorted for PR purposes."
International union groups ITF and ETF have also called for shareholders to vote against Bonderman, and the company is facing the prospect of new strikes on Sept. 28 as unions representing crews in Belgium, Italy, Spain, Portugal and the Netherlands plan to walk out over pay and working conditions.
In Poland, unions say Ryanair is forcing cabin crew to accept self-employed contracts or face dismissal and have established a new union to fight the change. Ryanair says the claims are false.
In a sign that the labor tensions aren't easing, European Cockpit Association President Dirk Polloczek said that pilots had lost confidence in current management. "Developments over the past months have clearly shown that the relationship between Ryanair management and its employees has become dysfunctional, and this is now putting at risk the continued success of the airline," he said in a statement.
The U.K. Pilots Union Balpa and the Swedish Air Line Pilots Association on Wednesday added their voices to those calling for shareholders to oust O'Leary and Bonderman.
In the face of the disputes, O'Leary remains defiant. "Just because they threaten us with a strike we won't roll over and concede into anything that would endanger the business model, which depends on us offering the lowest fares in the markets in which we operate," he said in the interview.