Gilead Faces Doubts on Wall Street a Year After $12 Billion Deal
(Bloomberg) -- Investors in Gilead Sciences Inc. are still waiting for the company to prove the value of last year's purchase of Kite Pharma Inc., and time may be running out.
The drugmaker's shares have traded sideways since the Kite deal was announced in late August of last year. Sales of Kite's first treatment, Yescarta, failed to impress in its first two full quarters on the market and competition is looming. Adding to concerns, Gilead's long-time chairman, chief executive officer and chief medical officer have all recently stepped down.
Robert W. Baird & Co. analyst Brian Skorney says Gilead may have to write down the deal, which the company values at $11.9 billion. That means lowering the projections on its balance sheet, if the multi billion-dollar sales Wall Street expects don't materialize. The long-time bull cut his rating on the stock to neutral in July following the management exodus.
"A lot of people take a bearish view, myself included, that they are not going to get that return" that the company expected, Skorney said in a telephone interview. Gilead's most recent 10-K filing says the fair value of Kite's assets is about $9 billion based on discounted cash flows of future sales.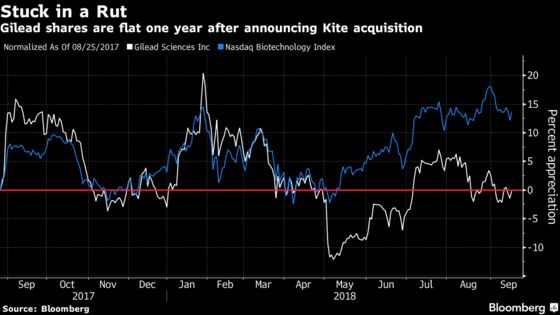 Gilead doesn't comment on speculation, a company representative said in an email.
The next year will be critical for Gilead to prove it can turn things around, according to Piper Jaffray analyst Tyler Van Buren. He expects the cancer drugs acquired from Kite, known as CAR-T therapies, will bring in $2.8 billion in sales for Gilead by 2025. Analysts, on average, estimate Yescarta sales will be $2.3 billion in 2025, according to data compiled by Bloomberg.
"People need to see some sort of inflection," Van Buren said in a phone interview.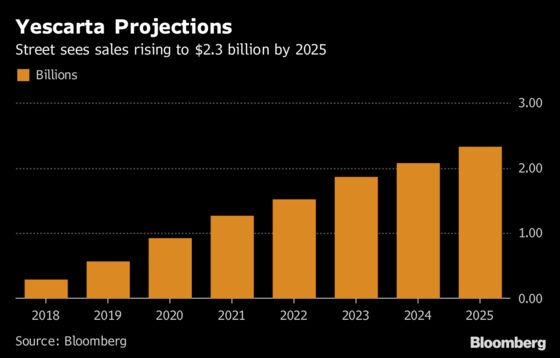 Even Wall Street's biggest bull says it could take a decade or more for Gilead to prove the acquisition was worth it.
"I don't think there will ever be a scenario in the next five years where you will be able to crunch the numbers and say they got back their investment in Kite; it's just way more long-term of a vision," Raymond James analyst Steven Seedhouse said in an interview. He holds the highest price target on Gilead shares at $97, based on a bullish outlook for new drugs to treat HIV.
To be sure, Gilead has told investors to be patient. Last year, the Foster City, California-based company said it will take at least three years for the Kite deal to add to earnings. The problem is that the competitive landscape for cancer immunotherapy is changing fast.
Just last week, Allogene Therapeutics Inc. -- run by Kite's former management team -- filed for an initial public offering after raising more than $400 million to advance so-called off-the-shelf CAR-T therapies. These new products could threaten drugs like Yescarta because they don't need to be personalized for each patient and could cost much less.
The increasing competition in cellular therapies makes it "unlikely" that Gilead's CAR-T platform will be the "winning technology," Skorney said.
Bloomberg Intelligence analyst Asthika Goonewardene cautions that it's premature to draw conclusions as the industry is still in its infancy.
"Consensus is all over the place, and rightfully so," Goonewardene said. "What we know is that cell therapy is giving us amazing response rates, and in some cases, functional cures. There is so much more work to be done."