Europe's August Car Sales Surge Ahead of New Emissions Tests
(Bloomberg) -- European car registrations skyrocketed in August as automakers hurried to get vehicles out the factory door before the start of new emission-testing regulations.
Deliveries of new passenger cars jumped 30 percent in the European Union and European Free Trade Association in August from a year earlier, according to data released Wednesday by the European Automobile Manufacturers Association. Sales increased in every country but Sweden, Switzerland and Iceland. In the year through August, deliveries rose 5.9 percent to 10.6 million cars.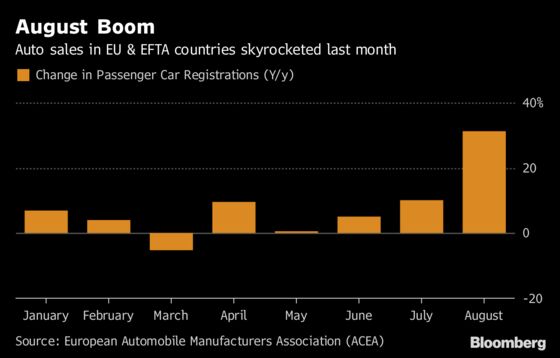 "The most likely explanation for this exceptional growth is the introduction of the new WLTP test," the association said in the release, referring to the new Worldwide Harmonized Light-Duty Test Procedure that applies to all cars registered after Sept. 1.
The tougher testing methods, designed to produce results more in-line with real-world conditions, have proved a hurdle for a number of carmakers. Volkswagen AG last month said the stricter rules were a key reason why it would struggle to meet delivery targets this year. Daimler has also singled out WLTP as an obstacle weighing on its business. BMW, which hasn't seen delays in getting its models ready for the new regime, said pricing pressure will continue into the fourth quarter due to carmakers stockpiling registered but yet unsold automobiles.
The glut is expected to last a few months, according to a study by EY consultancy. The drag on prices from surplus stock and the U.S.-China trade tensions could see BMW's return on sales from automaking drop below an 8 percent to 10 percent range during the third quarter, Evercore ISI analyst Arndt Ellinghorst said in a note Tuesday. BMW has maintained this corridor, a key target for the company, for the past 33 quarters.
The ACEA compiles car registration figures from the E.U., except for Malta, as well as Switzerland, Norway and Iceland.