Danske Investors Still in Dark After CEO Exit: Street Wrap
(Bloomberg) -- The departure of Danske Bank A/S's chief executive officer amid a money laundering scandal and a cut to the Danish lender's earnings guidance left investors poorer, but not much wiser, analysts said.
The stock tumbled as much as 8.3 percent in Copenhagen, extending this year's drop to 31 percent, as Wednesday's news failed to improve visibility for shareholders, according to Jyske Bank analyst Simon Hagbart Madsen.
Danske's inability to provide an accurate estimate of how much dirty money was funneled through its Baltic operations between 2007 and 2015 was a negative for investors, said DNB's Hakon Astrup.
Analysts were less concerned by the guidance cut, as it was partly due to a 1.5 billion-krone so-called donation the bank plans to make to an independent foundation to support the fight against international financial crime.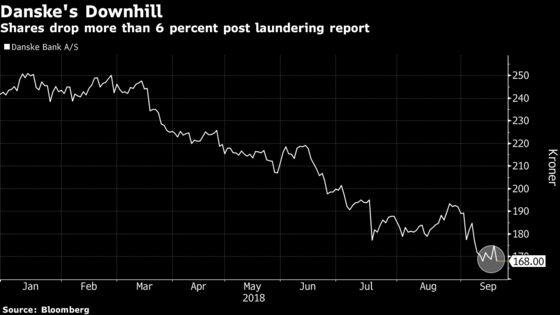 Here's a round-up of what analysts and investors are saying:
A.P. Moller Holding (shareholder), Robert M. Uggla
Danske's next CEO must rebuild the trust in the bank, Robert M. Uggla, CEO of A.P. Moller Holding, the lender's biggest shareholder, said. Danske's money laundering case is "deeply regrettable" and A.P. Moller Holding finds it "unacceptable," Uggla said, adding that "we look forward to the announcement of a new CEO."
Jyske Bank, Simon Hagbart Madsen
Visibility is unchanged, given that Danske Bank was unable to conclude how much was laundered and the result leaves a big question mark. "We think that more certainty around the extent of the scandal would have reduced risks" for the shares. Even though outgoing CEO Thomas Borgen has been successful in implementing the lender's Nordic Universal Bank strategy, his exit will probably have limited effect, since it was expected to a certain extent.
It was no major surprise that a consequence of the money laundering scandal was that the bank's CEO would step down, though not announcing a successor may leave a vacuum. The question is whether investors really get "much wiser" today.
MP Pension (shareholder), Jens Munch Holst
MP Pension is pleased that Danske showed it's "taking this seriously" as can be seen with the CEO's departure and the chairman's comments that "he is on his way to leave as well." The matter is not closed, and the shares remain in quarantine for now. MP Pension has about $20 billion in assets under management, including Danske shares.
It's negative that uncertainty remains as the investigation could not conclude on a better estimate of the number of suspicious transactions. On the positive side, no transactions seem to have been in breach of any sanctions. DNB's initial reaction is slightly negative. The possibility of a larger fine is still considerable.
Report failed to "draw a line under the issue" as the broker had hoped. Positive that the full-year 2018 net profit outlook has remained as expected, that there was no change to the buyback, no sanctions violations so far, and no mention of U.S. authorities.
Jefferies, Kapilan Pillai
While the CEO exit was a blow, it doesn't lead to a strategy revamp. Currently unclear what the basis for any fine is, with the market pricing in a hit of DKK36 billion.
ATP (shareholder), Claus Wiinblad
ATP finds it "unfortunate" that the lender didn't provide an estimate for how much money might have been laundered through its Estonian unit. Wiinblad said the report makes clear that there was a "massive failure of management" and that the bank "clearly was too slow" in responding to the signs of laundering.