Crypto Exchange Kraken Likens NY to a 'Controlling Ex'
(Bloomberg) -- New York's attorney general isn't happy with popular cryptocurrency exchange Kraken. The feeling is mutual.
The state's legal chief said Tuesday that the San Francisco-based firm and two other digital-coin marketplaces may be operating illegally in New York. Kraken Chief Executive Officer Jesse Powell, known for his candid remarks on the internet, took to Twitter to express his displeasure.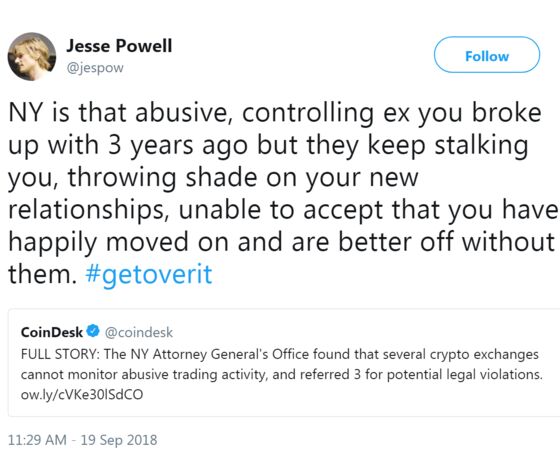 Earlier this year, New York asked 13 major crypto exchanges for details on their operations, internal controls and safeguards against market manipulation and fraud. Nine of the platforms participated, while the other four, including Kraken, claimed they don't allow trading in the state. Attorney General Barbara Underwood said in a report Tuesday that her office found that Kraken, Binance and Gate.io had accepted trades from within New York, and has referred those companies to the New York Department of Financial Services for possible violation of digital-currency regulations.
Powell's tweet cited an article on the attorney general's actions. In a subsequent message to Bloomberg, he said his reference to New York was to the state broadly, not the regulator.
Kraken has said that it stopped operating in New York after the state in 2015 created the "BitLicense" -- a special permit that applies to virtual-currency exchanges -- which has drawn criticism from crypto companies for being too burdensome. In April, Powell called the state's inquiry "insulting.'' The next month, he said in an interview that the attorney general doesn't have authority over Kraken. And on Twitter Wednesday, Kraken suggested the attorney general is trying the case in the court of public opinion.
"The Kraken platform's public response is alarming," Underwood's report said. "In announcing the company's decision not to participate in the Initiative, Kraken declared that market manipulation 'doesn't matter to most crypto traders,' even while admitting that 'scams are rampant' in the industry."