AutoNation CEO to Cap Charmed Career With Years-Long Handoff
(Bloomberg) -- AutoNation Inc. Chief Executive Officer Mike Jackson, who rose from a mechanic at a Mercedes-Benz dealership to lead the top automotive retailer in the U.S., plans to transition to executive chairman next year after leading the company for nearly two decades.
Jackson, 69, will remain with AutoNation through 2021, and search firm Spencer Stuart will hunt both within and outside the company for his replacement as president and CEO, according to a statement. An outspoken advocate for the auto industry, Jackson has previously expressed a reluctance to retire, once saying he emulated the longevity of mogul Roger Penske, who's still running his car retailing, trucking and racing empire at age 81.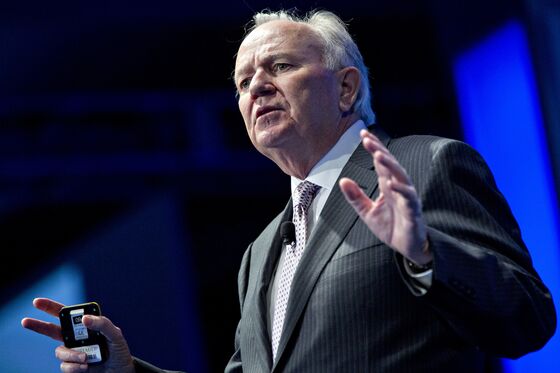 "The timing is right to transition the company to the next leader," Jackson said in emailed remarks. "AutoNation's position is strong with a coast-to-coast brand, a comprehensive brand-extension strategy, and the groundwork has been laid for digital."
Jackson transformed AutoNation from an operator of used-car superstores beset by thin profit margins into a colossus that's sold 11 million vehicles and has more than 330 new-vehicle franchises.
In 1999, Wayne Huizenga, the late billionaire founder of Blockbuster Entertainment and Waste Management Inc., recruited Jackson away from his role as head of Mercedes-Benz USA to fix his struggling chain. Jackson put new and used offerings under one roof and snapped up family-owned dealerships.
More recently, Jackson has returned to stand-alone used-car stores with no-haggle prices, targeting higher margins and better customer satisfaction. The move was part of a shift in AutoNation's focus away from new cars -- where automakers' success is mostly determined -- toward the lucrative business of used vehicles, repairs and replacement parts.
Jackson steered AutoNation through calamities including the post-Sept. 11, 2001, drop in car demand and the 2009 collapse in sales during the deepest economic downturn since the Great Depression. While he's been CEO, AutoNation's shares have more than quadrupled, closing Tuesday at $43.09. They reached a high of $66.20 on July 17, 2015.
On Thursday, AutoNation rose 1.6 percent to $43.80, as of 11:12 a.m. New York time.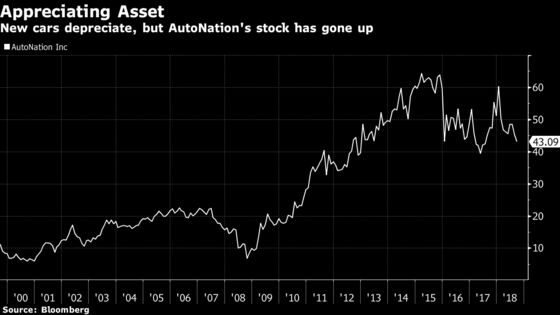 The biggest shareholders that have been along for much of this ride are Bill Gates's Cascade Investment LLC, which has a 20.5 percent stake, and Edward Lampert, who owns 13 percent, according to data compiled by Bloomberg.
As AutoNation rose in prominence, so did Jackson. He became a leading voice on auto retailing and regulations, including touchy topics like fuel economy and trade. He's the chairman of the Federal Reserve Bank of Atlanta and has been on its board since 2014.
Finding a successor for Jackson has been challenging for AutoNation. One potential heir apparent, Mike Maroone, retired as president of the company in 2015 at age 61, then reentered the industry by acquiring several dealerships two years later.
Another possible successor, Bill Berman, abruptly left last year only four months after being named president. Following Berman's departure, Jackson assumed the title of president, and his contract was extended through 2019.
Jackson will continue to lead AutoNation's board and, along with his successor, confront stiff challenges. Online retail giant Amazon.com Inc. is looking to parlay its broader influence on nearly all aspects of commerce into building a greater presence in car-related retailing. Electric-vehicle maker Tesla Inc., meanwhile, has bypassed franchised dealers and is selling directly to consumers.
Jackson has come a long way from finding work as a service technician by chance and circumstance. After graduating from Saint Joseph's College in his hometown of Philadelphia in 1971, his 1959 Mercedes 190SL broke down and he couldn't afford to have it repaired. He negotiated a deal with the local Mercedes dealership to work off the repair as a mechanic, despite lacking any formal training.
After a few months in the dealership, Jackson was hooked on the car business and abandoned plans to become a lawyer.