ANZ Turns to Morgan Stanley to Solve Its Indonesian Dilemma
(Bloomberg) -- Australia & New Zealand Banking Group Ltd. has rekindled a long-running effort to sell its stake in family-controlled lender PT Bank Pan Indonesia, recently hiring Morgan Stanley to help find a buyer, people with knowledge of the matter said.
ANZ plans to start gauging interest again from potential private equity and strategic buyers, the people said, asking not to be identified because the process is private. The 38.8 percent stake is valued at 8.6 trillion rupiah ($578 million), based on Wednesday's closing price.
The Australian lender has made attempts to offload the stake at least since 2013, when new regulations made it more expensive to hold minority overseas investments. Bank Panin is controlled by Indonesia's Gunawan family, whose reluctance to give a board seat to an incoming investor has stymied earlier negotiations with suitors, people familiar with the matter have said.
ANZ's holding had attracted interest from potential acquirers including Japan's Mizuho Financial Group Inc. and Mitsubishi UFJ Financial Group Inc., people familiar with the matter said earlier.
The potential sale is part of ANZ's strategy of selling-off non core operations as it becomes a simpler and more domestically-focused bank. It has already exited other overseas stakes, including its 20 percent holding in Shanghai Rural Commercial Bank Co.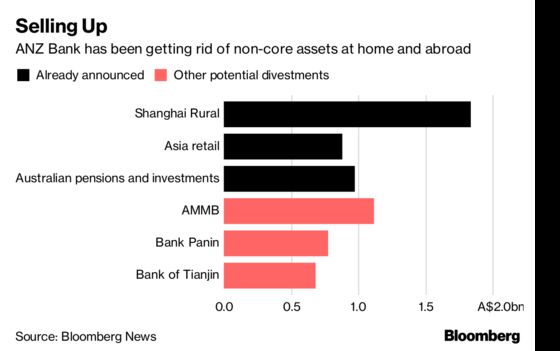 Shares of Bank Panin fell 1.1 percent at 9:52 a.m. Thursday in Jakarta, compared with a 0.6 percent rise in the benchmark Jakarta Stock Exchange Composite Index.
Representatives for Morgan Stanley and Melbourne-based ANZ declined to comment.
"This is ANZ's business, so we haven't received any information at all," Bank Panin President Director Herwidayatmo, who like many Indonesians goes by only one name, said in a text message. "We have not received a request to do due diligence."