Pig Excrement Spills Into North Carolina Floodwater
(Bloomberg) -- Hurricane-wracked North Carolina faced a health and environmental crisis after at least 17 hog-waste lagoons were compromised and sewage plants across the state flooded, releasing millions of gallons of partially treated human discharge.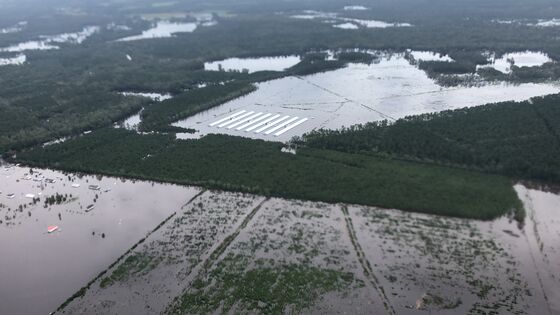 On an aerial tour Monday of a swath of swine country -- the dozen top hog-producing counties cover an area the size of New Jersey -- many lagoons appeared intact. Roughly the size of a soccer field, they are blue-green or red, thanks to bacteria that break down the feces and urine. Several, though, were swamped with water from the torrential rains and creeks that had burst from their banks.
"We don't think it's a good idea for people to be swimming around in poop," said John Rumpler, clean water program director for Environment America, a Colorado-based advocacy group. "It's a pretty serious public-health risk that people should be concerned about."
Four days after deadly Hurricane Florence made landfall, much of the Tar Heel State's low-lying east remained flooded and impassible. The storm, blamed for killing at least 34 people, damaged a Duke Energy Corp. coal-ash landfill and trapped workers at one of its nuclear plants near stricken Wilmington. The disaster, forecast to cost $22 billion, was wreaking havoc in myriad ways:
About 2,200 people and 578 animals have been rescued in North Carolina and about 10,000 people were in shelters.
Almost 322,000 homes and businesses were without electricity in North Carolina, South Carolina and Virginia.
Sixteen rivers reached major flooding stage, with three others expected to peak in the next two days, Governor Roy Cooper said. "Sunshine doesn't necessarily mean safety."
New Hanover County and Wilmington, which are mostly cut off, opened distribution centers for meals, water and tarps to supply 60,000 people for four days.
After the storm came increasing worries that floodwater suffused with feces and the corpses of livestock could carry disease.
North Carolina is home to more swine than any state besides Iowa -- 9 million of them, more hogs than New York City has humans. The farms are concentrated in its eastern counties, a world away from Charlotte's bank towers and the Research Triangle's universities. The sparsely populated land is regularly punctuated by low-lying barns that hold hundreds of pigs that can weigh close to 300 pounds. Many are reared on contract for companies including Smithfield Foods Inc., the world's biggest pork processor, which is owned by Hong Kong's WH Group Ltd.
The average pig produces about three to four times the amount of organic waste as a human each day, according to Daniel Andersen, an Iowa State University assistant professor who studies manure management and water quality. It's pumped into lined earthen pits, seasoned with bacteria to break it down and sprayed on fields as fertilizer.
The state has about 3,300 such lagoons, according to the Department of Environmental Quality. Noisome, often swarming with flies and blamed for polluting groundwater, they have been the subject of litigation and a state moratorium.
There have been two confirmed lagoon breaches, including a Duplin County site that contains more than 300,000 cubic feet of waste and is a "total loss," said Megan Thorpe, a spokeswoman for the state's Department of Environmental Quality. Two others had structural damage. Thirteen had discharges, nine were completely flooded and 55 others were near overflowing, according to a state tally at noon Tuesday.
The North Carolina Pork Council said the vast majority of lagoons escaped Florence. "While there are more than 3,000 active lagoons in the state that have been unaffected by the storm, we remain concerned about the potential impact of these record-shattering floods," the council said in a statement on its website Monday.
Hog waste contains E. coli and bacteria, Rumpler said. Sewage overflows, combined with high floodwaters, bring the prospect of ecological impacts including fish kills. Humans coming into contact with fecal matter risk viruses, parasitic infections and rashes.
"There are a lot of potentially nasty pathogens," said Tara Smith, a professor of epidemiology at Kent State University in Ohio.
Sampling after Hurricane Floyd in 1999 found dangerous levels of E. coli in water even after floods receded, according to the Waterkeeper Alliance. "This is dangerous stuff, and there's no place for this to be running down the rivers," said Rick Dove, a senior adviser with the watchdog group.
North Carolina created a buy-out program after Hurricane Floyd in 1999 to close lagoons in the flood plain, said Thorpe of the Department of Environmental Quality. The state will "follow the science and follow the law to protect public health," she said in an email.
There is also the possibility of contamination from dead livestock, Smith said. Tens of thousands of hogs died in Floyd, but no similar tally could yet be made for Florence. But late Monday, Sanderson Farms Inc., one of the largest U.S. poultry companies, said that 60 North Carolina chicken houses and four breeding facilities were flooded. It estimated 1.7 million chickens were lost, and another 30 farms with about 211,000 birds each can't get feed. More poultry may die if relief can't get through, the company said.
From above, the water lay impassively Monday atop eastern North Carolina like sheets of slate. Near New Bern, floodwaters covered a handful of farms and in the opposite direction, verdant vegetation nestled against still-rising creeks. The atmosphere and the land were heavy with moisture, and the Trent, Neuse and other rivers flowed inexorably toward backed-up waterways downstream.
That flowing water is itself polluted. North Carolina utilities reported that millions of gallons of raw sewage and partially treated wastewater were released into lakes, streams and city streets after systems lost power or were overwhelmed by rainfall that reached 40 inches in some places. Seven publicly owned sewage treatment plants aren't working, the U.S. Environmental Protection Agency said.
In Wilmington, the Cape Fear Public Utility Authority said 5.25 million gallons of "partially treated" waste water was discharged into the Cape Fear River after two generators failed. It was the biggest release in the utility's history, said Executive Director Jim Flechtner.
In Jacksonville, the Onslow Water and Sewer Authority suffered a "catastrophic failure" and completely depressurized, according to the EPA. Waste water was flowing out of manholes and treatment plants, said Reggie Cheatham, the EPA's director of the Office of Emergency Management.
Little can be done to prevent such failures because "there is not really a sewer on the planet that is designed to handle this level of rain," said Nathan Gardner-Andrews of the National Association of Clean Water Agencies. The real concern, he said, is the hog lagoons.
"The waste just sits there," he said. "It's not treated in any form. We are talking about hundreds of thousands of pigs."