Tyson Taps Meat Veteran for CEO Role as Trade Volatility Rises
(Bloomberg) -- Tyson Foods Inc. is taking a page out of its old playbook by tapping a meat-industry veteran to lead the company at a time when spats between the U.S. and major trading partners are shaking up agriculture markets.
Chief Executive Officer Tom Hayes, 53, will leave at the end of this month after less than two years in the top position, the company said Monday. He will be replaced by Noel White, 60, a seasoned Tyson executive who leads the beef, pork and international divisions. The unexpected change comes in the midst of a volatile period for meat producers who are facing threats to American exports just as beef, pork and poultry production are reaching record highs.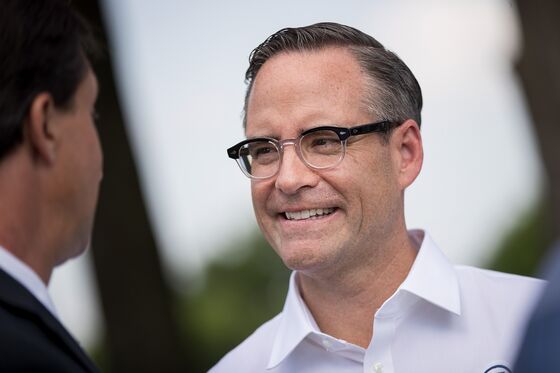 Hayes had become the figurehead of Tyson's shift from a meat stalwart to its ventures into more prepared foods and alternative protein. He came to the company through its 2014 purchase of hotdog and sausage maker Hillshire Brands. Since becoming CEO, he brought in new leaders, acquired sandwich maker AdvancePierre Foods Holding, and often touted the company's swing toward a "modern food company."
Tyson remains one of the largest producers of beef, chicken and pork, with output accounting for about a fifth of all U.S. meat. The management change comes just a couple months after the company cut its profit forecast for the fiscal year that ends in September as U.S. trade conflicts contribute to a domestic meat glut. Executives have also lamented sluggish chicken demand this year.
"With Mr. White, the commodity guys are back in charge," Pivotal Research Group analyst Tim Ramey, who holds a sell rating on the stock, said in an emailed note. "One would be tempted to interpret this move as a reversion of power to the commodity processor side of the business."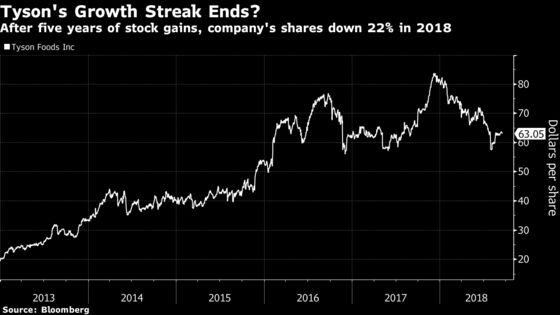 The company's shares dropped 0.5 to $63.06 on Monday in New York. The stock is down about 22 percent in 2018.
Hayes will leave with pension benefits of at least $627,000 and accumulated deferred compensation of $2.47 million, regulatory filings show. Tyson said it will enter into a separation agreement with Hayes, which will determine if he'll get additional payouts as he exits.
The move is Tyson's second sudden CEO shift in just two years. In November 2016, Tyson announced that Hayes was replacing Donnie Smith at a time when concerns were mounting over price-fixing lawsuits against numerous U.S. chicken producers. The cases are still pending and Tyson has denied wrongdoing.
Tyson spokesman Gary Mickelson said in an email that there will be no change in corporate direction and that Tyson has a "sound strategy." There are no issues of personal conduct or integrity linked to Hayes' departure, he said by telephone.
White has worked in the food industry for three decades and has been at Tyson since its 2001 acquisition of meatpacker IBP Inc. He was also Tyson's chief operations officer and president of the poultry division. He's a native of Des Moines, Iowa, the biggest U.S. hog state.
Jeremy Scott, an analyst at Mizuho Securities USA in New York, said the CEO shift is surprising and comes amid a confluence of headwinds for livestock margins. Meat production is surging thanks to simultaneous growth in the domestic cattle and hog herds along with new chicken plants being added. Transportation and labor costs are also rising.
"There's a growing sentiment that a lot of the great margins they've made in the last couple years are not going to continue because the capacity's coming online," Scott, who holds a buy rating on the stock, said by telephone. The U.S. trade tensions are "compounding" volatility, he said. "It is a new world order right now, and we're all trying to adjust."